You have to be aware of the fact that a quality fitness routine can literally save your life. Hit the gym, and you'll feel better. If you hit it enough times (and your circumstances don't change, such as a piano falling on your head), you might even live longer! Working out will give you a body that can be envied, increased work stamina, and more energy to get things done. But if working out for these reasons isn't enough, don't worry, there are plenty of other good ones too! You'll feel better, look better, work better, and sleep better. Who doesn't want that on earth?
It's never been a better time to get your fitness on by setting up that home gym. With the world in pandemic chaos due to the coronavirus and everyone trying to stay inside, you might as well have everything at arm's reach while staying safe.
Who needs a gym membership when you can have your own personal fitness guru right on the coach? Today's big-ticket home equipment is nothing like that creaky bike grandma had in her basement. The treadmills, bikes, and rowing machines listed below are so advanced that not only will you be working out with live classes or trainers from the comfort of your living room, but you can also join them!
If you're looking to save money, stay safe, and work out at home, then this is the list for you. a few pieces of equipment that will help anyone get in shape!
Before making your first purchase, consider the following: cost, function, and spaces in your home. You need to have the right equipment for a modern workout. You also want enough room in your home so you can move around and get good physical exercise on surfaces that are easy on your feet and protect against skidding or other accidents.
How Can I Receive the Products?
Forwardme

provides the fastest, most affordable, and most reliable international shipping for all your exercise equipment. Shop tax-free from US websites and we ship directly to over 220 countries!
Shop from multiple websites and we'll combine your pieces into one box. One package with all of your purchases. We'll ship it to you as fast and quickly as we can so that you get the best service possible!
When your packages leave our US warehouse, they will be delivered to your door (for Algeria, Bahrain, Egypt, Jordan, Kuwait, Lebanon, Libya, Mauritania, Morocco, Oman, Qatar, Saudi Arabia, Tunisia, United Arab Emirates, and Yemen) within 1-3 days.
Where can I buy home gym equipment from the US online?
1.    Gym Source
2.     Amazon US
3.     US Fitness Products
4.     American Home Fitness
5.     Peloton
6.     Mirror
7.     Tonal
What workout equipment should I buy for a home gym?
Here are the best pieces of ultimate equipment you need for your home gym on the US market.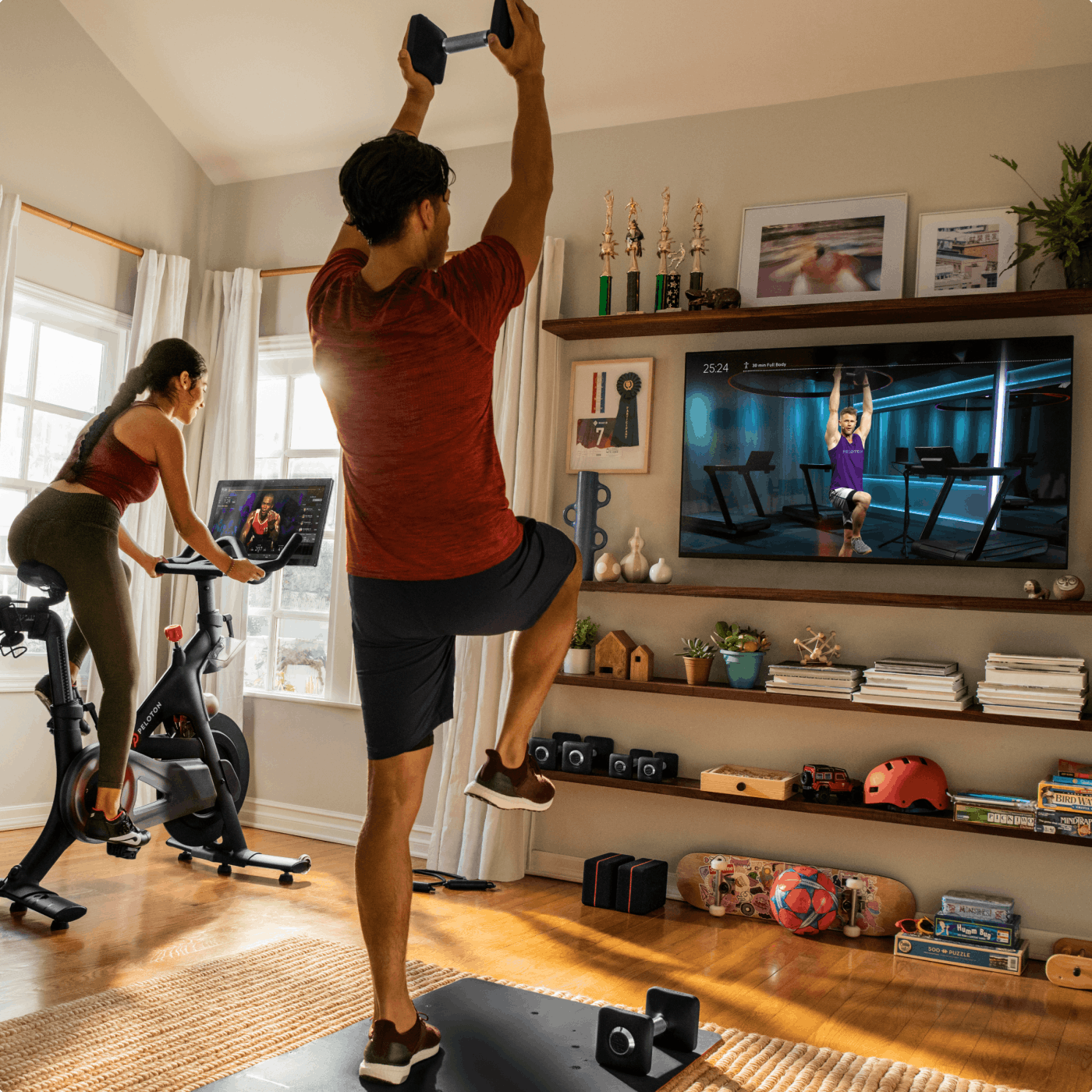 It's not surprising that Peloton bikes are hugely popular because they bring the energy of a group workout class to one's home. It feels like you're in an actual fitness studio with a live instructor giving feedback and motivation on your performance on its high-quality bikes!
The Peloton indoor spin bike is different from other bikes because it has a 21.5-inch touchscreen display and live cycling classes. You'll pay $39 per month for the extra subscription service if you want to participate in this extraordinary workout from home. The app also offers other workouts like yoga, boot camp, running, stretching, and meditation that can be completed without leaving your own four walls.
The Peloton bike is perfect for those looking to get in shape and have fun doing it. This exercise machine will whip you into the best possible shape of your life with its innovative technology, which makes cycling an enjoyable activity!
The latest and greatest trend in fitness is streaming it live. This way, you can be a part of the fun without having to actually go through what they are doing! If you are not able to join the live stream, you can watch the recorded stream. This is all the motivation that you need!
If you're willing to spend a little bit more, The Peloton Bike+ features a larger screen and 360-degree rotation so you can follow workouts off the bike. It automatically changes the resistance to match your instructor's workout, and it works with the Apple Watch in every way.
SCHWINN AD6 Airdyne Exercise Bike
Get yourself into better shape by taking your cardio workout to the next level with an intense Schwinn Airdyne AD6 Exercise Bike. It builds strength and blasts calories without having to leave home! This Schwinn exercise bike is the perfect option for those who really want to get into shape! It provides signature wind-resistance technology that gives you nearly infinite levels of resistance. The more work and sweat you put in, the better your workouts will be! The Schwinn Airdyne bike is armed with features to keep you comfortable while staying on top of your training stats and biometric data. Use the built-in bottle holder to quench your thirst, not only for water but also for sports drinks or even protein shakes! You can train at any time thanks to its soundless belt that runs without friction—no more waking up the neighbors. And don't worry about being thirsty because it includes a fan, so there's no need for noise during those long workouts either!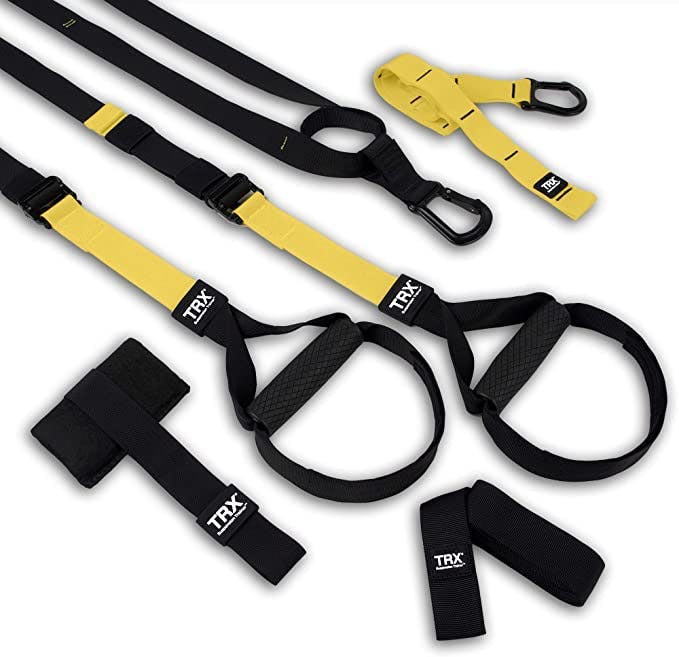 The TRX Suspension Trainer is a workout tool that will help anyone transform themselves into their best selves in terms of fitness. Whether you're new to the gym or simply want a more effective way to combine strength and cardio, this product can be used at any level—it's time to transform your body! The possibilities with the TRX Suspension Trainer are endless, and they're even better when they're paired up with our 360-degree training app, so you'll never have excuses again. You can do many different exercises with the TRX Suspension Trainer using your own body weight. You should try a few of them; they're quite fun! You can easily adjust the level of resistance and intensity applied to the TRX Suspension Trainer by changing your body position.
ProsourceFit Puzzle Exercise Mat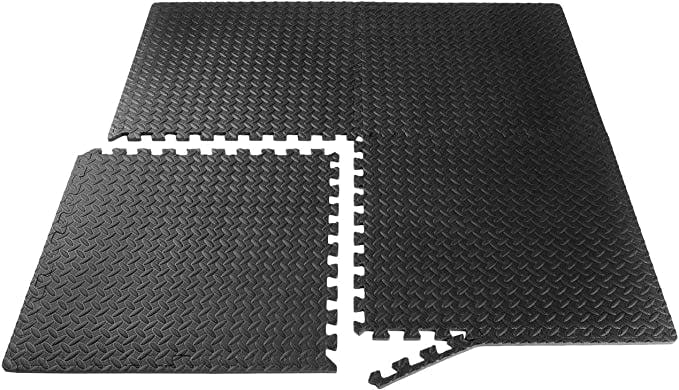 Let's get physical! The ProSource Exercise Puzzle Mat will be the perfect workout partner for your active lifestyle. It's great for home workouts. Just snap these interlocking pieces together and you're all set to go, and everything is quick and easy so that when done, they'll come apart as easily as putting them together in seconds. Protect your floor with this new and improved mat. It's great for garages, basements, or even the carpet to reduce noise and make floor exercises more comfortable! The ProSource high-density foam is perfect for all your workout needs. It can comfortably hold light weights, kettlebells, and even benches!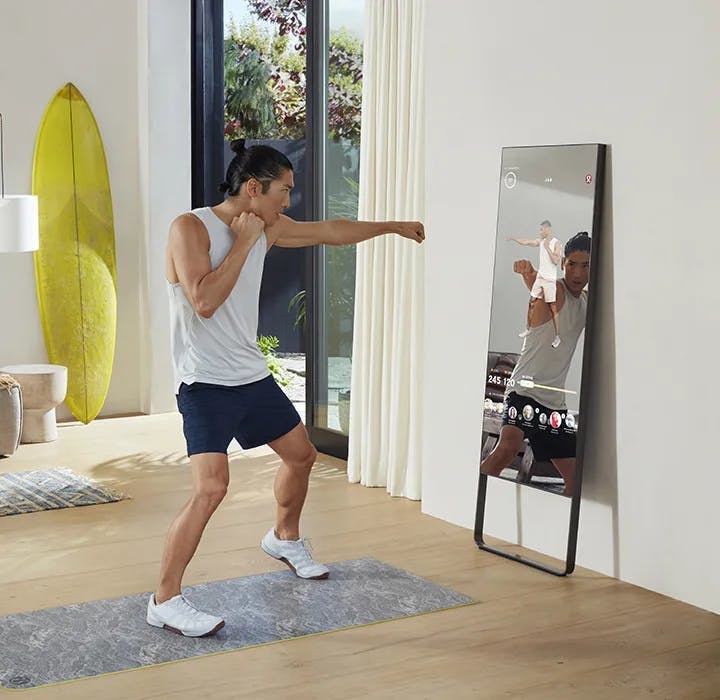 Real-time personal training via an LCD screen We love this LCD screen mirror because it's so damn entertaining! You can watch live fitness classes on the screen and also take a class virtually thanks to its awesome design. It has different levels and classes (yoga, strength, and cardio) of difficulty, too; whether you're just getting started or are an advanced athlete, there will be something for everyone.
You'll get the attention to detail you deserve with one-on-one personal training so that your trainer can give you real-time feedback. The mirror comes with a Bluetooth heart-rate monitor and six fitness bands. It will make sure you can't stop yourself from exercising, even if that means making fun of your every move! Get into the best shape of your body from the comfort of your home with bodyweight workouts or high-tech resistance training. The mirror is the best equipment for the home.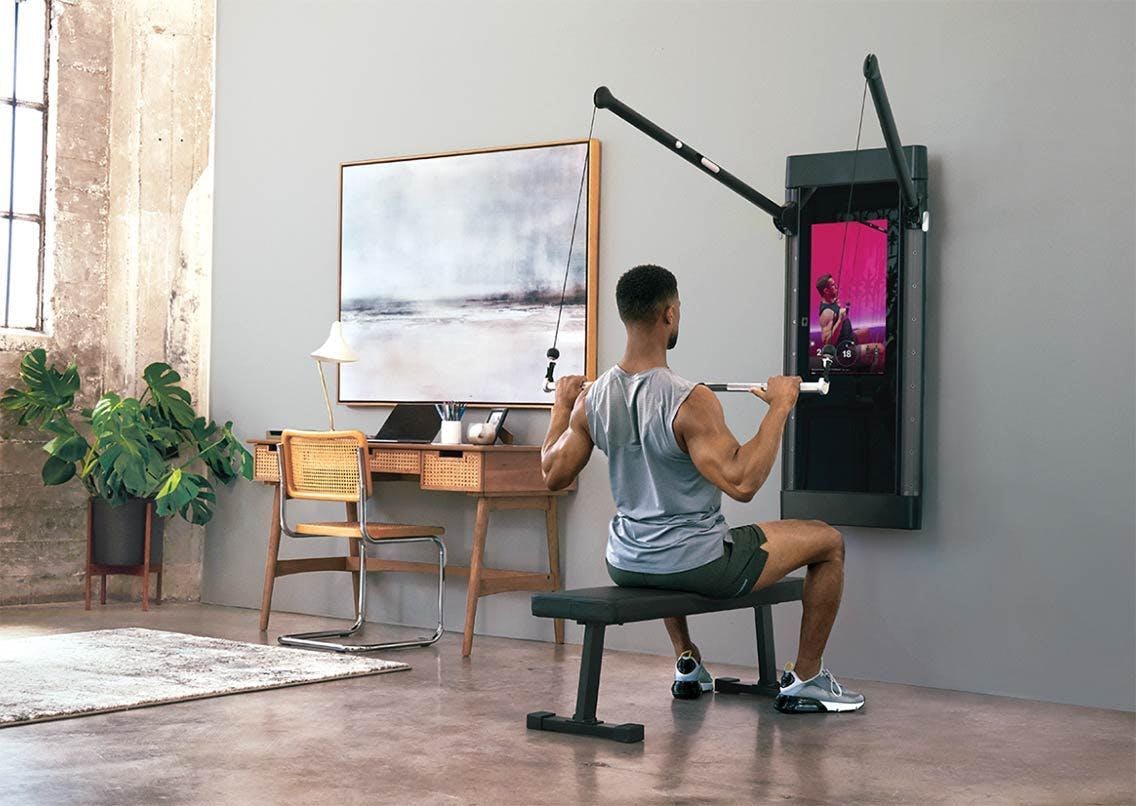 The smartest home gym you can have The Tonal Resistance Weight Machine is perfect for those who are looking to tone their muscles without the need for weights, metal plates, dumbbells, or kettlebells. The two giant arms that extend outward from the sides of one's screen give a more personalized experience with each workout
The Tonal offers real-time feedback and automatically adjusts the resistance during your workout. The smart, compact device is perfect for those who enjoy guided workouts with 200 pounds of resistance.
Gaiam Yoga Mat - Premium 6mm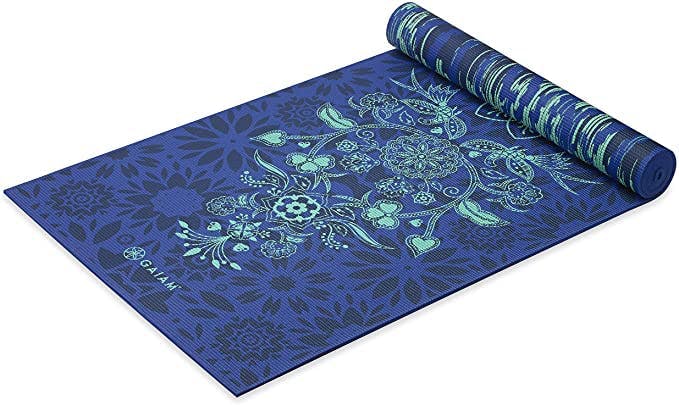 Your new favorite way to do yoga! Gaiam is known for making the best mats on the market, and this one is no exception. With a stable, sticky, non-slip surface that ensures safety during any pose, it will help you get into shape faster than ever before.
Are you feeling groggy and unmotivated? The Gaiam yoga mat features a reversible design that will keep your mood up.
Crossrope Get Lean - Weighted Jump Rope Set
Crossrope is a brand that believes in exercising differently. They believe that a workout should be fun, effective, and fit your busy lifestyle, which is why they are the perfect solution for anyone who has to juggle work or family life with their fitness goals! One of the most effective ways to tone your body and lose weight is to jump rope. The item has been redesigned to make working out anywhere and at any time even more fun and effective.
The FREE workout app will help you get healthier and happier by giving you access to fun workouts, tutorials for at-home challenges, and weight loss programs that are tailored just for you!
This innovative product is made so that it doesn't get tangled, coil up, or lose length when you need it most. Countless hours of engineering went into making this vastly superior product that will make your life easier than ever before!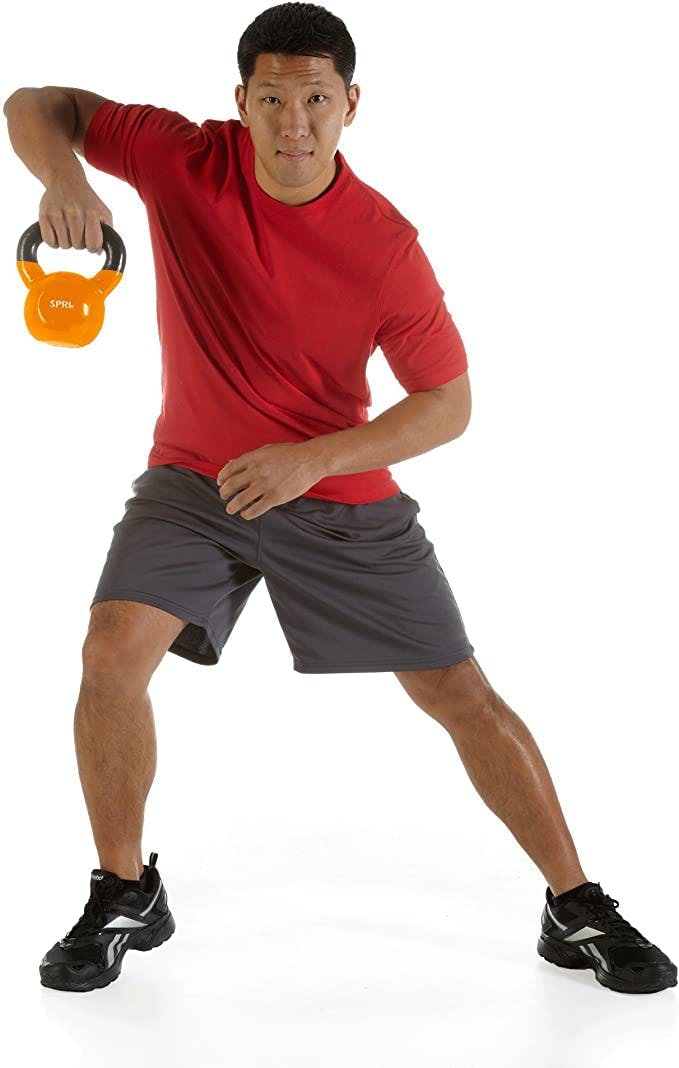 Here is a list of the most important fitness equipment. The SPRI Deluxe Vinyl Kettlebells are a bargain for all your fitness needs. Use them in squats, throws, cleans, jerks, and snatches to stay leaner than ever before. These kettlebells will help you perform at your best, no matter what exercise or workout routine you have planned for the day. The vinyl coating not only makes the weights more durable, but it also protects floors while they are being used. This means you can throw those weights around with reckless abandon without worrying about damaging your expensive hardwood floors or carpeting.