Depending on how you feel about technology, buying a new laptop is an exciting or terrifying prospect. It's a necessary investment for many of us to do everything from our 9-to-5 jobs to our leisure time.
So if you're looking to buy a new computer, it can be all too easy to feel stressed out by the number of options—and that's before you get to the price tag! Here's a question, though: have you considered buying a laptop from the U.S.?
You may discover that this is a more cost-effective method of obtaining your new laptop. Here we break down some of your options for shipping a computer from the U.S. around the world using Forward.me and how we can save you even more money on your new tech.
1. Retailer's Site
Yes, we're lumping all of these sites together. We know that when it comes to buying laptops, you're probably going to be looking for a specific model. So it makes sense to check out Apple, Dell, and HP to see what they offer in the way of affordable laptops.
Often, you'll find that the websites of laptop manufacturers offer high-quality refurbished computers—a great way to make sure that you're getting the best deal for your money.
It's essential to make sure you're on the specific site for the U.S., as this is where you'll tend to get the best deals.
2. Best Buy
Arguably the biggest name in tech in North America, Best Buy is a national staple. This means it's also a fantastic place to look for deals on laptops. Best Buy sells all the major brands of laptop makers: Apple, Asus, Samsung, Dell, HP, Lenovo, and more.
Best Buy offers free shipping as well as price matches on laptops. Keep reading to find out how you can benefit from Forwardme's 0% sales tax and make the most of your money.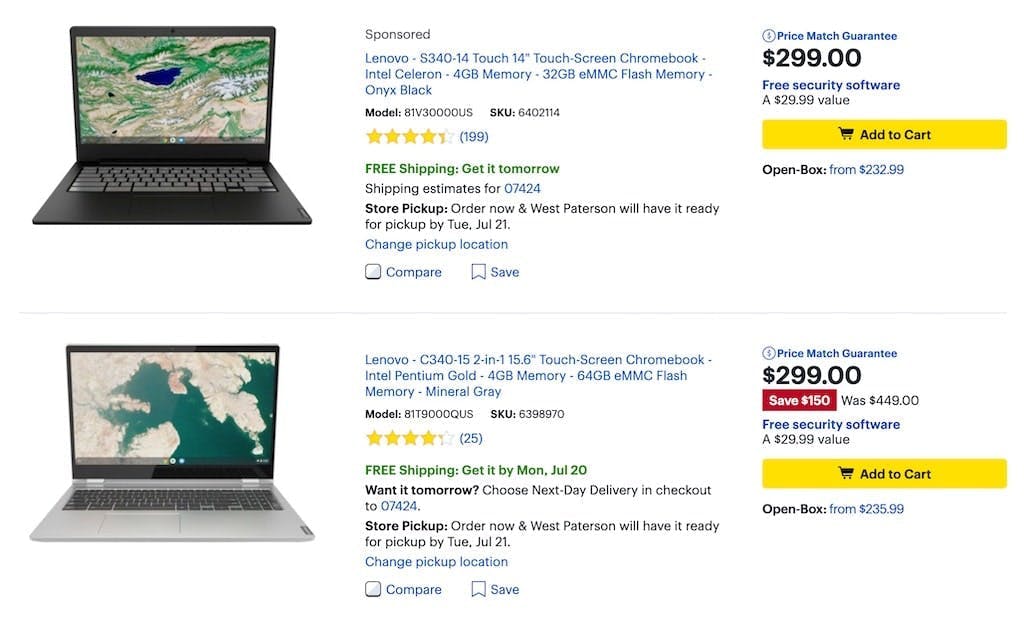 3. Walmart
Walmart is one of the most famous American shopping names out there, thanks to its incredible stock. And yes, this includes laptops!
You can buy a laptop in various ways and forms on the Walmart website. They store the big names in laptops and computers, but they also offer tech value bundles. If you're looking for a bargain, this is a great place to look.
Walmart also offers high-quality refurbished laptops with some insane savings.
4. Target
Even more iconic than Walmart is Target. Whatever you want to buy, Target is going to have it, so when it comes to buying a laptop, it's a no-brainer.
Target offers free shipping to U.S. addresses, which is included in your membership to Forwardme. Target sells a wide range of laptops and accessories, and its Target Tech service gives expert advice. Don't forget to check out their refurbished machines to see what you can get.
As a bonus to save even more, consider signing up to be a Target Redcard holder. Holders of this card can save 5% on every purchase, which can impressively reduce the cost of your new laptop.
5. Fry's
US-based Fry's Electronic Superstore is a well-known superstore within the United States, although they have very few stores elsewhere in the world. You might be able to find an excellent deal on a laptop and every other accessory you can think of thanks to online shopping. While Fry's Electronics doesn't offer international shipping, you can make the most of the bargains they provide with your own personal U.S. address through Forwardme and then ship them straight to your door, no matter where you live in the world.
6. Overstock
The U.S.-based online retailer provides incredible deals daily across a vast range of products, including bargains on laptopsOverstock, and computers. A little bit like Amazon, Overstock offers shopping and shipping to many international destinations; however, what is available to you may be limited based on where you live.
For some of the best deals, specify delivery to the U.S. and then take advantage of parcel shipping and forwarding through Forwardme.com, where we offer great prices. Get yourself a bargain twice over!
7. Amazon
It's not possible to look at online retailers and leave out this giant of the industry. Amazon U.S. offers a vast range of laptop deals and special offers, with many companies selling through their own Amazon stores.
To find the best deals, check Amazon U.S. prices to make the most of the available deals, especially when purchasing a refurbished laptop. Once ordered, Forwardme.com can forward your parcel to wherever you're located.
8. TechBargains
As the name suggests, Tech Bargains offers incredible deals on technology. The site also always features a "Hot Deal," so if you're looking to buy a new laptop sometime in the future, that's definitely something to watch out for.
Rather than stocking the laptops themselves, TechBargains searches the internet for the best deals. This does mean that you may find yourself routed back to a site that doesn't offer international shipping. Luckily, we've got you covered. How do I get my laptop shipped to me?
When you sign up for a Forwardme account, you receive a personalized Delaware postal address. This added benefit means that you'll pay a 0% sales tax on top of your new laptop costs.
With the most competitive prices for international shipping, you can shop to your heart's content and then have your parcels quickly and easily shipped to your address. If you're buying more than one thing, you can choose to consolidate your packages for even lower costs.
So there you have it: shopping for a new laptop has never been easier, and with Forwardme.com, you can take a massive amount of stress out of the process.