If you shop frequently online but don't hunt for deals or use comparison websites before making a purchase, you could be missing out on some pretty serious discounts. 
Many people think that scouring the Internet for the lowest price on an item they desire requires too much time, but the good news is that there are numerous deal websites that help you search for special offers and buy the cheapest online deals from US stores.
Read on to find out some top tips on what to do to catch extra online discounts and the best websites to do so.
Top tips for finding the best discounts
1. Use a coupon code
You should make it a rule never to purchase anything online without first trying to find a coupon code that you can use. 
Whether you like to find coupons via a simple Google search or try websites that gather coupon information from thousands of retailers, all it takes is a couple of minutes of effort to find deals that can save you at least 10 to 20% of your order. In many cases, your efforts can result in even bigger savings.
Here are some of the best sites to check for the latest coupon codes: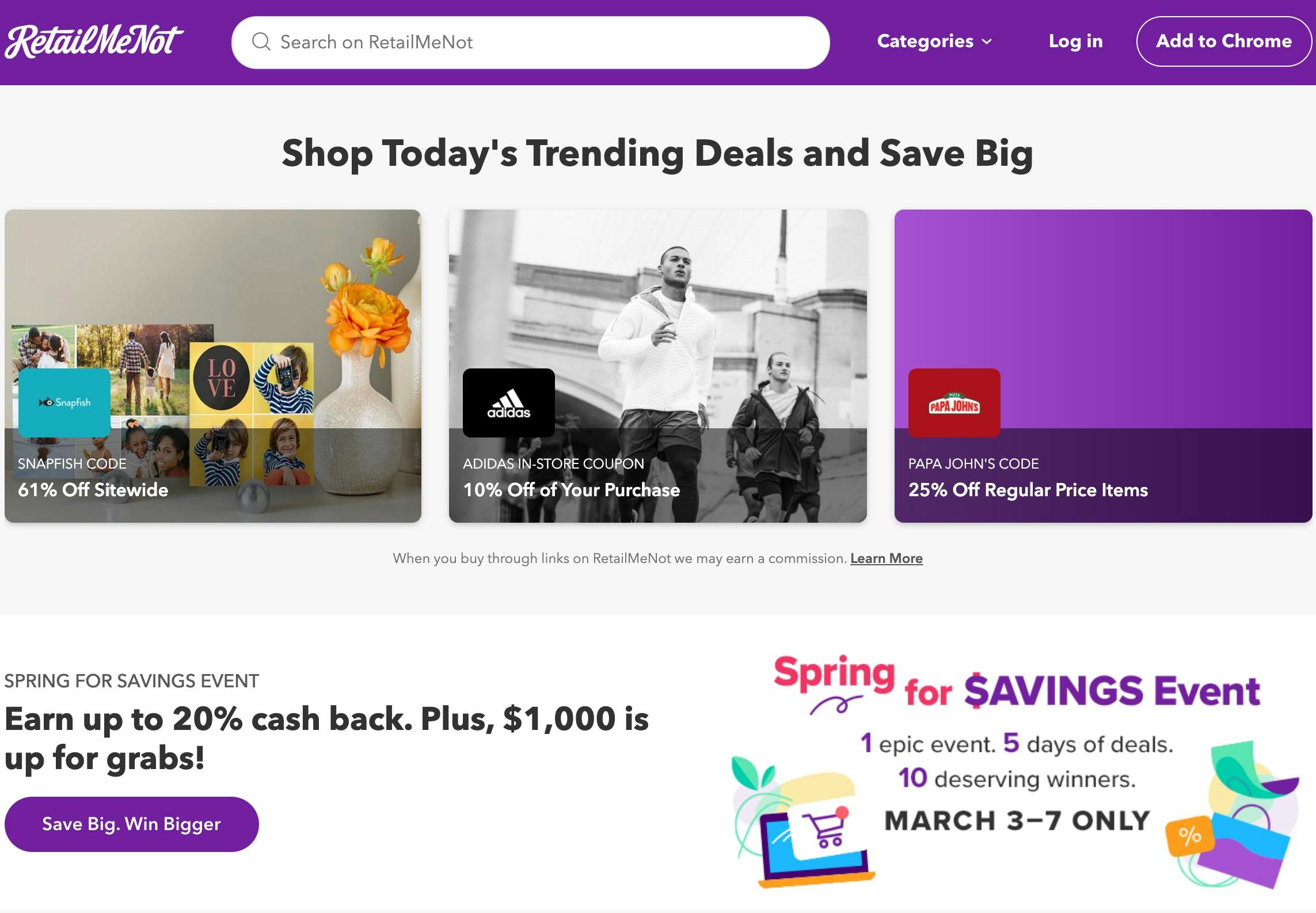 RetailMeNot: This website makes it easy to find active promo codes that you can apply to the items in your shopping cart. Promotions and discounts are available for thousands of online retailers, so you can save on most products you buy from US stores. 
Groupon: Even though Groupon's main focus is on deals on local entertainment and services, the website is also a place where you can find discounts on games, apparel, beauty products, and more. 
Coupons.com: Just like RetailMeNot, Coupons.com is a great place to find both digital and printable coupons. You can easily find deals and promotions from thousands of retailers in the US.
2. Install a browser extension
If you want to never forget to look for coupons when shopping online, installing a browser app can help you do so. Apps such as Honey search through the best coupons available on the website that you're currently shopping on. This is a "set it and forget it" approach to coupons because the app will do all the coupon searching and price comparisons anytime you shop on a website.
3. Use mobile apps for exclusive and limited-time deals
Multiple online shopping sites, such as PriceGrabber, Groupon, or LivingSocial have mobile apps that allow you to compare prices from different retailers and also access limited-time deals. With these apps, you get access to a wide range of offers, ranging from discounted household items to haircuts. 
You should also have a look at flashback apps such as Rakuten or Ibotta, which partner with online stores to offer a percentage of your purchase back. Even though it may not seem like much, cashback can really add up over time and you really don't have anything to lose.
4. Don't checkout immediately
After you select the items you want to purchase and put them in your cart, don't check out immediately. Instead, abandon your cart for a couple of hours or days. Many websites will send you a discount via email if you just wait. In most cases, this could be up to 10–20%, so it's really worth it to be patient. Plus, this tactic comes with another advantage: you'll avoid impulse purchases.
5. Check out social media
If you buy stuff from the same brands regularly, it's always a good idea to follow them on social media. Many brands use those channels to offer free shipping codes or announce special flash sales just for their social media followers.
While it's always a good idea to follow your favorite brands on social media, it's also worth remembering that this can tempt you to make some major impulse buys. 
6. Give price matching a try
Many stores, with Target, Kohl's, and Walmart among them, participate in price matching. This means that you can look for prices and deals in one store and ask another one to match them. Sometimes, you'll get an even better deal than the original one. This is a strategy that doesn't always work, but it's worth giving a try. 
7. Use price comparison tools
Whenever you intend to make an online purchase, take a minute to compare prices, because there's nothing more annoying than finding a better deal for the same product the day after you bought it. 
Some of the websites that you can use to compare prices and make sure that you don't miss a good deal include:
Camelcamelcamel – this website is a great tool for tracking the price history of products. It tracks pricing history on Amazon.com, so you can look at the graphs they have available for hundreds of thousands of products and determine when they're likely to drop. 
Google Shopping is another great platform to compare prices online. Google Shopping makes it easy to see prices at different major stores, including Walmart, Amazon, and eBay. 
PriceGrabber This website allows you to compare prices on millions of products, ranging from fashion to appliances. 
Final thoughts
There are lots of ways to get online deals when shopping from the US, but international shipping can often be quite a hassle. The good news is that it's possible to avoid these costs with the help of Forwardme. 
With a permanent shipping address from Forwardme, you can enjoy a 0% sales tax on your purchases and international shipping to over 220 countries. 
Using the service is easy, too — all you have to do is make one or more purchases from a US store and receive the package wherever you live in the world. Pretty exciting, isn't it?