Many international shoppers would love to take advantage of the great deals and selections offered by US retailers. Shipping to Israel from the US can be expensive and complicated, especially if you don't have a US address. In this blog post, we'll explain everything you need to know about getting a free US address, how much customs and taxes apply, which courier ships to Israel, and how much it will cost to ship from the US to Israel.
How to get a free US address and why you need it?
Many popular retailers in the US don't ship to other countries, like Apple, Macy's, Amazon, etc. But there's a workaround! With a little creativity, you can have packages delivered to a US address even if you live outside the States. Here's how to do it:
There are a few different ways to get a free US address. The easiest way is to use a mail-forwarding service like forwardme.com. Our service provides you with a free US address that you can use when shopping online. When your package arrives at our warehouse, we will then forward it to your real address overseas. A US address is essential for international shoppers who want to take advantage of the broad selection of goods available from American retailers.
With a US address, you can shop at any number of online retailers and have your purchases shipped directly to your door.
Which courier ships to Israel from the Us and how much does it cost?
Shipping to Israel from the US is a breeze with most major courier services. UPS, FedEx, and DHL all offer international shipping to Israel, and they make it super easy to track your packages so you always know where they are and when they'll arrive. Best of all, shipping rates are often very reasonable, especially if you're sending a small package.
FedEx also offers economy and express shipping options for deliveries to Israel. Prices for FedEx shipping start at around $33 for economy shipping and increase depending on the size of your package. One advantage of using FedEx is that they offer free online tracking for all shipments, so you can always keep an eye on where your package is and when it's expected to arrive.
DHL is another popular option for international shipping, especially if you need your package delivered quickly. Forwardme.com offers DHL express shipping to Israel starting at around $32. DHL provides free online tracking for all shipments, so you can stay up-to-date on the status of your delivery at all times.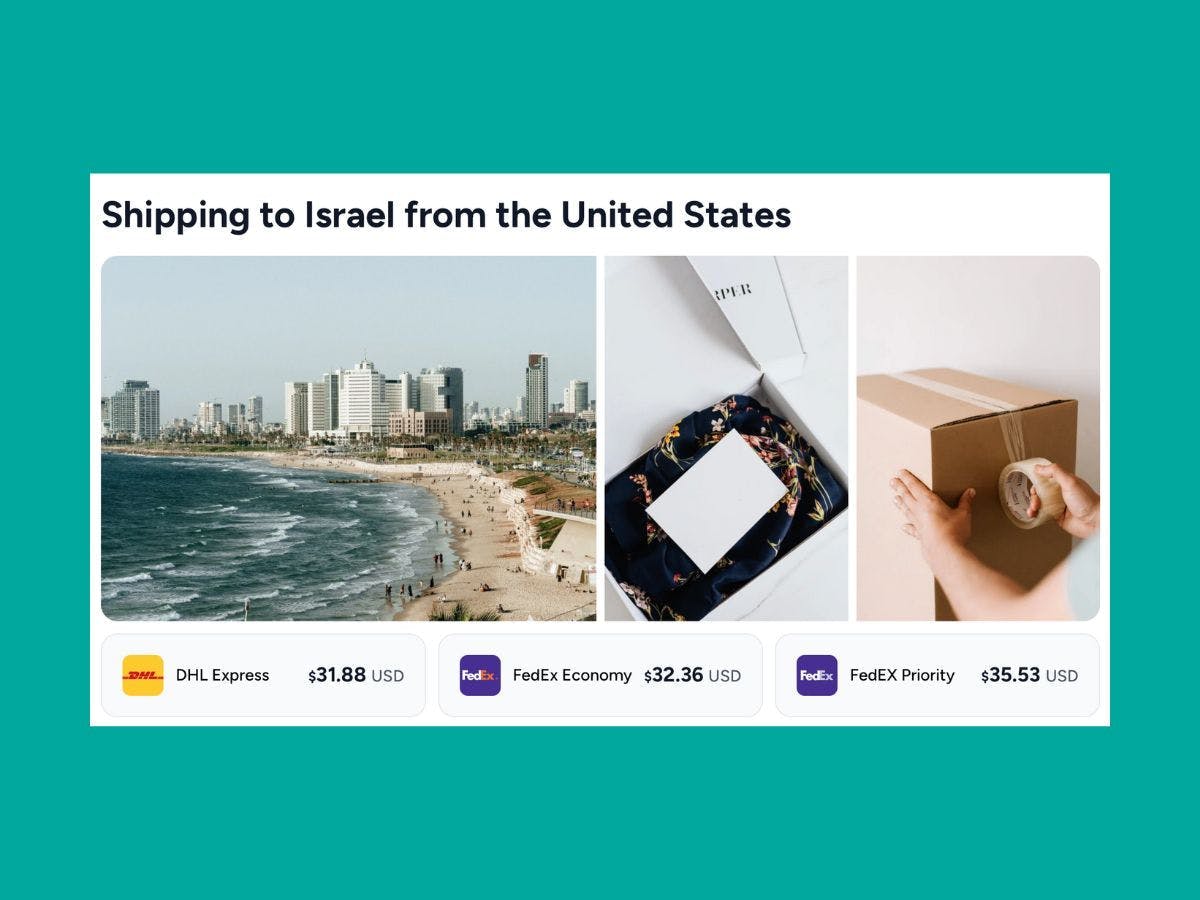 What do you need to know about customs and taxes?
When shipping any goods from the US to Israel, you will be required to pay VAT (Value Added Tax) on the items. The VAT rate in Israel is currently 17%, so be sure to factor that into the cost of your purchase. Additionally, there may be import duties imposed on some items, depending on what they are and where they're coming from. Many items shipped from the US to Israel will be exempt from import duties.
It's also important to note that there are restrictions on what can and cannot be shipped from the US to Israel. There are prohibitions on items such as live animals, fresh fruit and vegetables, tobacco, and plants. Additionally, there are restrictions on certain types of weapons, ammunition, and chemicals. Be sure to check with Israeli customs before shipping anything to ensure that it is permitted.
The tax threshold for shipping to Israel is 75 USD.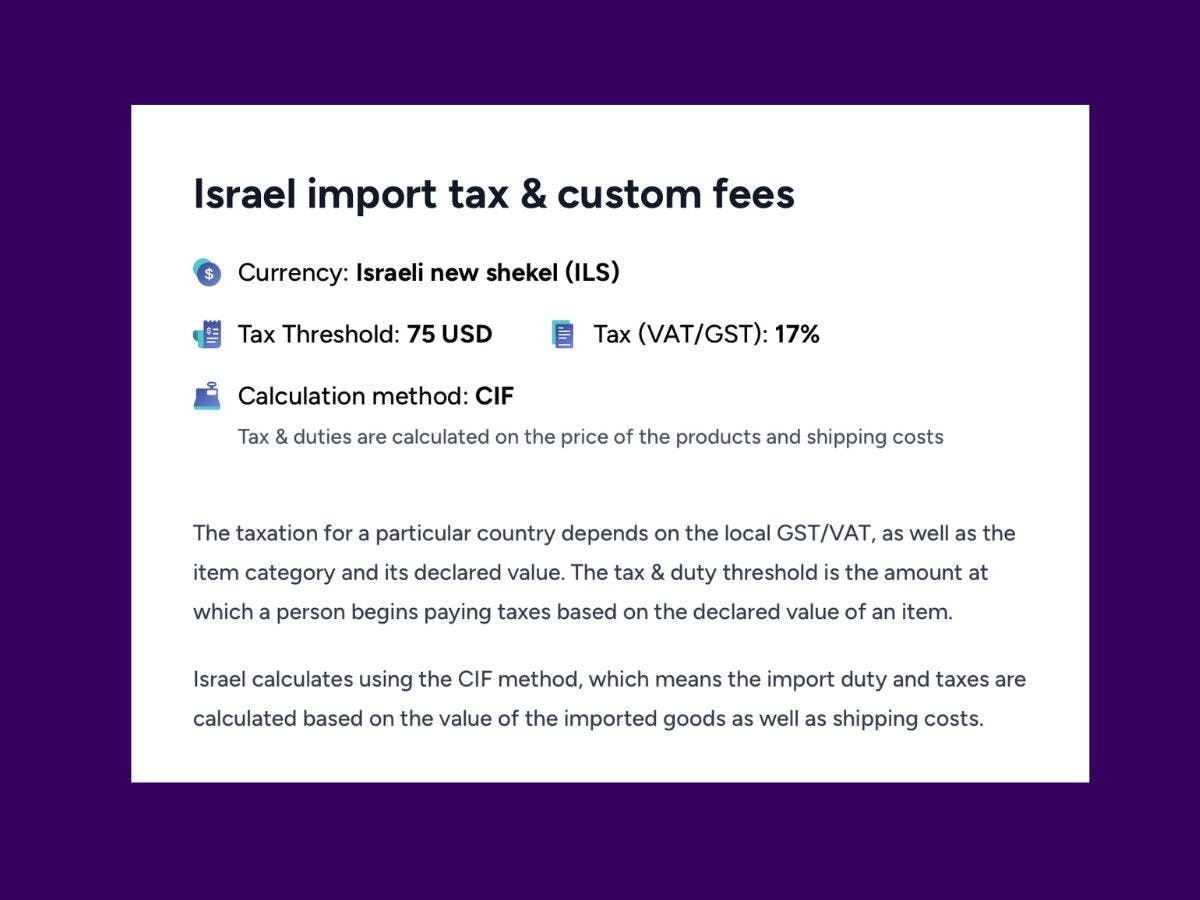 What are the advantages of Forwardme?
There are many advantages to using Forwardme for your international shopping needs, including:
1. Consolidation services: Avoid paying multiple shipping charges by consolidating your purchases into one shipment with ForwardMe. We'll even pack your items for you so you don't have to worry about them.
2. Free package photography: Don't worry about taking pictures of your items before sending them off—we'll do it for you! Just send us a list of what you're sending, and we'll take care of the rest.
3. Free handling: There's no need to pay extra for packaging or handling when you use ForwardMe. We'll take care of everything for you, so you can just sit back and relax.
4. 30 days of free storage: Can't receive your shipment right away? No problem! We offer 30 days of free storage so you can pick up your items when it's most convenient for you.
5. Exceptional delivery rates: Save money on shipping by using Forwardme. We offer some of the most competitive rates around, so you can get your items home without breaking the bank. You don't have to worry about hidden fees; what you see is what you pay.