If you're living outside of the United States, you may be wondering if there's a way to buy an iPad from the US without having to pay any taxes. The good news is that there is a way to do this, but it does require a bit of effort on your part. In this article, we'll explain how to buy an iPad from the US tax-free.
What is the tax-free address?
To understand the tax-free address, you must know what it means and how the US tax system works. The United States has 50 states, and every state has its laws, meaning they all have different regulations, tax rates, and punishments. Even though there are 50 states in the US, there are five sales tax-free states. A tax-free address means a condition where there is no sales tax. The United States has a general regulation that indicates that when purchasing an order or service, you are charged your state tax rate, so if you wish to save yourself from paying taxes, you need to find a sales tax-free US address.
Forwardme proudly provides you with a tax-free Delaware address, thus allowing you to save 7% on every shopping session.
Discover the best ways to get an Apple iPad from the US
Apple US store (Brand-New)
Apple US offers cheap prices when compared to most other countries. On top of no sales tax and cheap product fees, you can get your iPad from Apple with a guarantee and ship it to your doorstep with ease!
Bestbuy (Brand-New)
If you're looking to buy a brand-new iPad, BestBuy is one of the best places to do so. They offer a wide variety of iPads, as well as other electronics products, and have excellent customer service. Plus, since they're based in the US and you have a warehouse in Delaware, you won't have to worry about any taxes either!
Backmarket (Brand-New/Refurbished)
Backmarket is the biggest refurbished item market in the US. You can find almost any product in the Backmarket, and buy them as you like. As well as refurbished items, there are also unused items. Bear in mind that you can get an iPad for 40% off if you buy it refurbished!
Amazon (Brand-New/Refurbished)
Amazon US store carries an unlimited amount of Apple products. You can find all kinds of refurbished and unused items in the Amazon US store, shop for them, and we can ship them to you. Also, Amazon US store has even cheaper prices due to supply demand rate.
Newegg.com (Refurbished)
Newegg specializes in electronics and technology products. It's a great place to find Apple products if you're looking for a tech-focused shopping experience.
Walmart.com (Brand-New/Refurbished)
Walmart offers a variety of Apple products online, often at competitive prices. They may also have exclusive bundles or deals.
In the US, you have the option to purchase either brand-new or refurbished iPads, offering a choice that suits your preferences and budget, ensuring accessibility to a range of iPad options.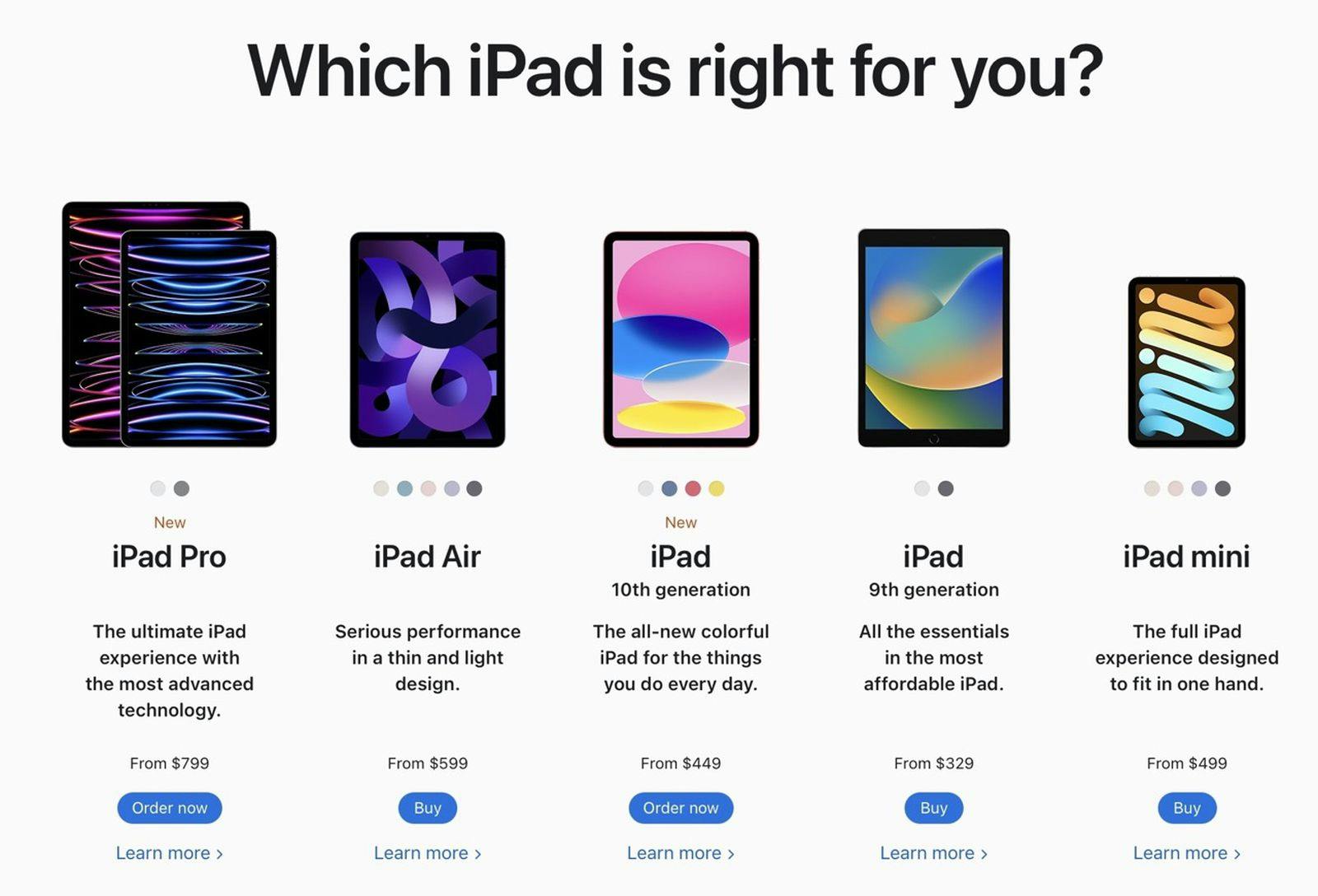 Comparing iPad models: Size, memory, design, and features
iPad Mini:
Size: 7.9 inches
Design: Compact and portable
Memory: Typically available in 64GB and 256GB variants
Notable Features: Touch ID, Apple Pencil support
iPad:
Size: 10.2 inches
Design: Standard size with a Home button
Memory: Typically available in 32GB and 128GB variants
Notable Features: Apple Pencil support, Smart Keyboard compatibility
iPad Air:
Size: 10.9 inches
Design: Slim bezels, no Home button, Touch ID in the power button
Memory: Typically available in 64GB and 256GB variants
Notable Features: Compatibility with Apple Pencil and Magic Keyboard
iPad Pro (11-inch and 12.9-inch):
Size: 11 inches and 12.9 inches
Design: Slim bezels, Face ID for facial recognition
Memory: Offers higher memory capacities, starting from 128GB and going up to 2TB
Notable Features: ProMotion display (120Hz), M1 chip (in newer models), compatibility with Apple Pencil 2 and Magic Keyboard
iPad Models (Summary):
iPad Mini: Ideal for portability, note-taking, and on-the-go use.
iPad: Offers a balanced size and affordability for general use and content consumption.
iPad Air: A premium mid-range option with a larger screen and advanced features.
iPad Pro: The most powerful and feature-rich iPad with larger displays, catering to professionals and creatives.
Your choice should depend on your specific needs, budget, and preferences, as each iPad model caters to different use cases. Always check the latest specifications and features before making a purchase, as Apple frequently updates its product lineup.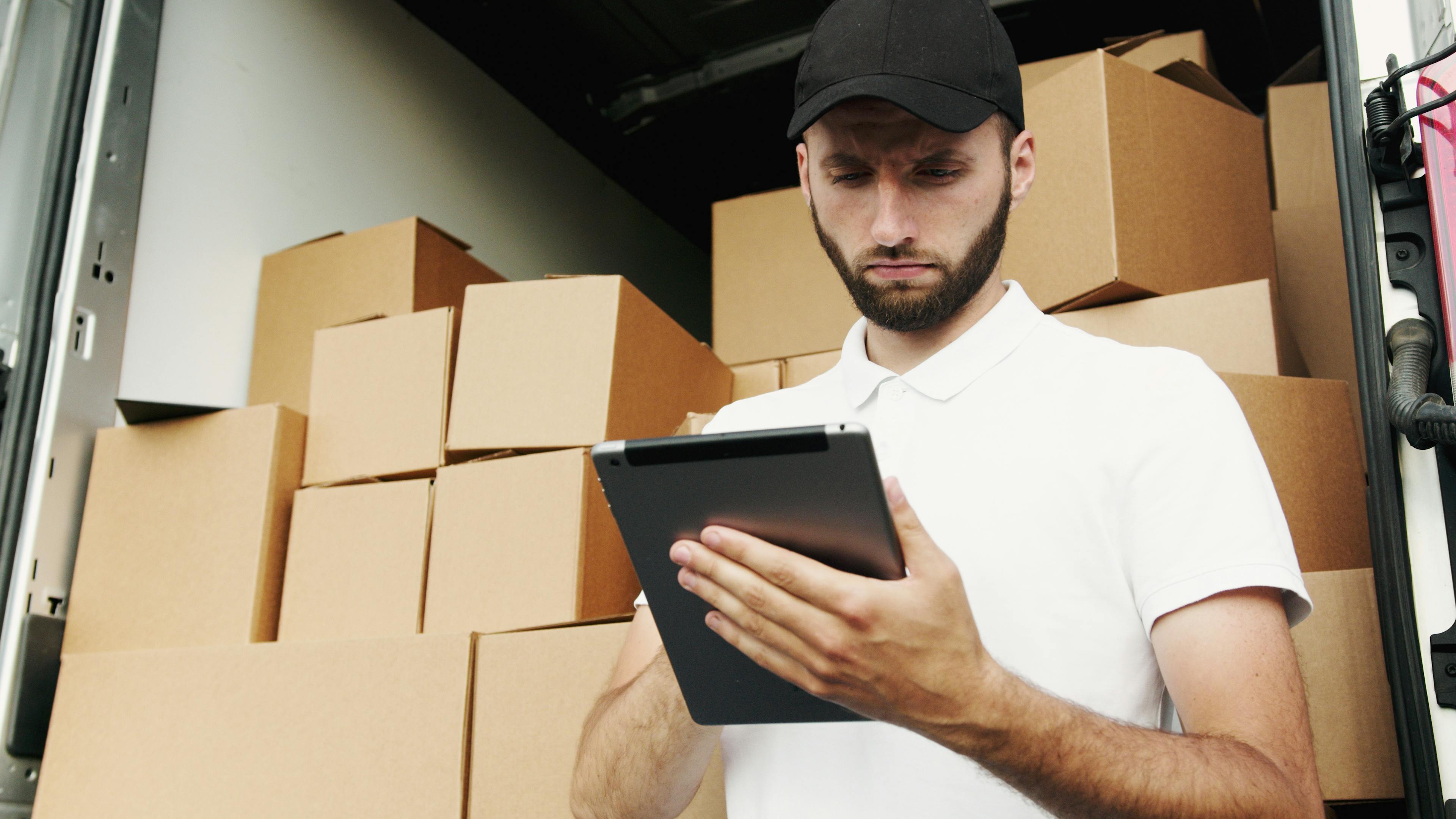 Unlocking global shopping: The role and benefits of Forwardme
Apple doesn't offer international shipping for its products, which is where services like Forwardme become invaluable. With Forwardme, you gain access to a free US address, bridging the gap between Apple's US store and international customers. This enables you to shop for your favorite Apple products directly from the US, taking advantage of its offerings and promotions.
Sign up, receive a US address, and shop at US stores. Your purchases are sent to your US address, then Forwardme ships them to you worldwide. Choose your preferred shipping method, and enjoy global access to the products you desire.
Forwardme ships to more than 220 countries in the world including Canada, Spain, Qatar, Kuwait, Japan, United Arab Emirates, United Kingdom, Singapore, Australia, and Saudi Arabia. You can get a quote by simply using our international shipping calculator.
Forwardme offers cheap shipping rates, numerous delivery options, Personal Shopper service, life-saving add-ons, Consolidation/Repacking, and shipment insurance.
With Forwardme, you can shop from any US store to our warehouse, place an order to ship the item to your doorstep, and we will ship the package internationally to your doorstep.