Online shopping is great. It makes it easier for us to find the luxury clothes we are looking for and get them delivered to our door quickly and effectively. Currently, though, there is an uprising in thrifting, or buying preowned clothes. When you buy preowned clothes not only is it good for the environment but it can also be cost-effective, especially when looking at luxury brands. 
The downside is preowned thrift stores are sparse these days, but the good news is online retailers are having an uprise. 
Between 2019 and 2021, there has been a growth of at least 67% in secondhand online shops, making it easier than ever to buy preowned designer clothing. With Forwardme you can effectively shop for all your designed preowned clothing and get them easily shipped right to your door. Here is a guide on where you can shop and how to buy preowned clothes from the US.
1. The Real Real
When listening to your favorite podcast or scrolling through Instagram, you might have seen The RealReal. This online retailer sells luxury preowned clothing at a discounted price. They use a rigorous process to make sure their pieces are authentic and test the quality. Pricing can still be on the expensive side since their clothes are ready-to-wear and high-end, but the luxury items you find on their site are almost too good to be true sometimes. 
2. Depop
Depop is great for purchasing preowned women clothing but also for selling clothing if you need a few extra bucks. Vintage clothing lovers will love this site because they offer unique styles at prices you can't beat. The cool thing is your Depop account can be linked with your Instagram, and they will show you preowned clothes based on your recent activity on Instagram. Depop is more social media friendly and takes advantage of what you're looking for to help narrow down what luxury items you should buy.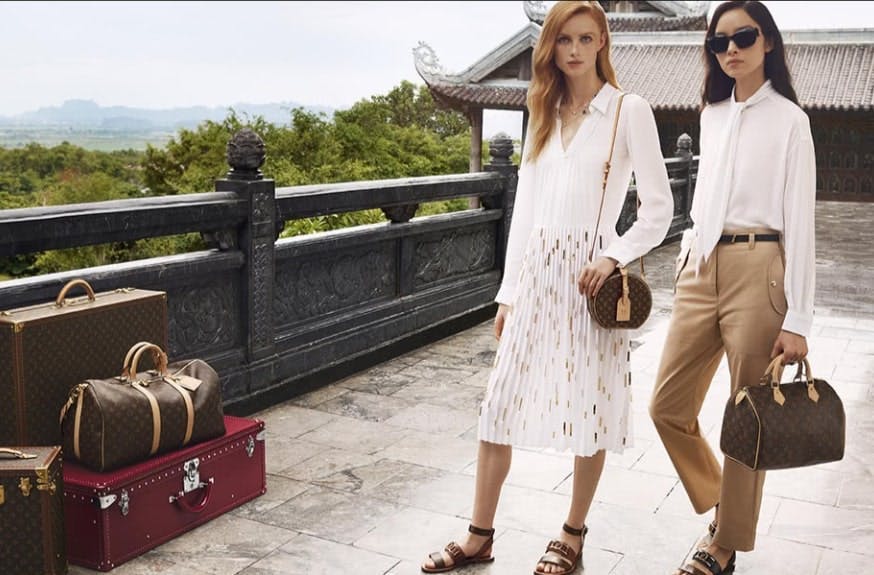 3. Tradesy 
Tradesy is another site where you can buy luxury preowned clothes, but it isn't as popular as The RealReal. At Tradesy, you can find preowned designer clothing, jewelry, and accessories for half the price. They offer a search filter where you can narrow down what you're looking for and get more affordable pricing as well. Give Tradesy a try because you might find more designer options at a better price than other second-hand luxury sites since it is a little more unknown.
4. thredUp 
ThredUp is probably one of the most popular sites to buy preowned clothing from. They sell thousands of pieces of preowned clothing for almost 90% off the original cost. The company prides itself on selling diverse clothing at a great price. The best part is that you can find almost anything on ThredUp. They have sections dedicated to men, women, and kids, plus a wedding shop and a back-to-school section. There is so much to find on ThredUp, you'll be shocked you didn't stumble across it sooner. 
5. Patagonia Worn Wear
Patagonia likes to be sustainable, and to help with that, they allow all customers to recycle any of their Patagonia items at their retailer store so they can be upcycled and resold on their website. Patagonia is known to be a luxury workout brand that has great clothing but a hefty price tag. You can buy preowned clothes from their website for at least half the price of the original sticker tag.
6. Beyond Retro 
Grab runaway clothing with a boho vibe from Beyond Retro. They offer preowned men's clothing, women's clothing, and luxury styles with a flair from the 60s to the 90s on their website. Beyond Retro also offers a lot of vintage clothing for both men and women, plus vintage sportswear. Currently, 90 million items find new homes each year with the help of Beyond Retro, and they also offer a discount to students. From time to time, the site will also hold its own sales, marking preowned luxury clothing down even more than it already is. 
7. Poshmark 
Buying and selling your designer clothing is easy with the help of Poshmark. This peer-to-peer site allows you to buy preowned clothes from the convenience of your cell phone. They have over 200 million preowned items and at least 5,000 brands to choose from. Their search function makes it simple to find the refurbished clothes you're looking for, with a variety of sizes and pricing options. 
8. Luxury Garage Sale
Who ever thought luxury and garage sales would be in the same sentence? But here we are. This Chicago-based company is a designer online thrift store, perfect for finding luxury pre-owned clothes. You can find anything from clothing, bagas, shoes, and jewelry from top brands, all around 80% off. They even have a clearance section for a bigger discount, and their in-house team takes the time to verify the authenticity of each piece.
9. Swap
You can pop onto Swap and find luxury preowned clothes at a steal of a price. Swap loves to have affordable clothing for men, women, kids, and plus sizes, with over 2 million unique items for sale. You can find all your designer and high-fashion needs on Swap, with over a thousand new items being added to their site daily.
10. Flyp
Flyp is a San Francisco-based company that connects you to independent professional resellers. You can find preowned designer clothing that is in great condition, and they don't accept clothing from fast fashion brands like Forever 21 or H&M. They want to make shopping for luxury preowned clothing as effortless as possible, so you can keep extra cash in your pocket with minimal effort.
With these sites, buying preowned designer clothing is easier than ever, and you know you're getting the best bang for your buck. Make sure to head to Forwardme for all your shipping needs. With Forwardme, you can buy from any US online store and have it shipped to your home. Forwardme offers to shipping 220 counties around the world and a free US address.
If you cannot buy the product with your own international card, take advantage of the Forwardme Personal Shopper service,which can handle it easily for you. Now the only question is, what second-hand store will you be shopping from?