Ever experienced the thrill of snagging that perfect find from a US online store, only to discover they don't ship to Canada? Oh, the horror! Well, folks, we're here to turn that frown upside down. Our mission? To help you shop and ship from US stores with ease. We're talking hassle-free shipping right to your Canadian doorsteps. Now, you might be wondering, how does this magic happen? It's simple. We provide you with a free US address to Canada. Yes, you heard that right! But wait, there's more! We'll also be guiding you through the labyrinth of Canadian customs regulations and Canadian shipping rates. So, let's dive right in and transform your shopping experience.
A Step-by-Step Guide on Shipping from the US to Canada 
Hey there, fellow shopper! If you're in Canada and wondering how to get your hands on some awesome stuff from the US, worry not. We've got you covered. Just follow these simple steps, and you'll be showing off your new goodies to your friends in no time! 
Find an Online Store: First things first, you need to find a reliable online store in the US that offers the products you want. Whether it's Amazon, Walmart, or a small independent boutique, make sure they're trustworthy.
Check Shipping Options: Once you've found your dream product, check if the store ships to Canada directly. If they do, great! If they don't, don't worry. That's where freight forwarders come into play.
Use a Freight Forwarder: Freight forwarders are services that provide you with a US address to ship your stuff. They then re-ship your goods to your actual address in Canada.
Pay for Your Purchase: Make your payment. Most US online stores accept international credit cards. Some even offer the convenience of paying via PayPal or Apple Pay.
Track Your Shipment: Once you've made your purchase, keep an eye on your shipment. Most stores and freight forwarders offer tracking options so you can see exactly where your goodies are at any moment.
And there you have it! A hassle-free way to shop from US stores and get your purchases delivered right to your door in Canada. Happy shopping!
How long does it take to get your package delivered to Canada?  
Well, the time it takes for your package to reach your doorstep in Canada can depend on a variety of factors, including the shipping method chosen, customs clearance processes, and even the weather! However, we're here to break it down for you. 
Standard Shipping: This is the most economical method but can take anywhere from 5 to 10 business days, depending on the courier service.
Expedited Shipping: This method offers quicker delivery, typically within 3 to 5 business days.
Express Shipping: This is the fastest method, delivering packages within 1 to 3 business days. However, it's also the most expensive.
But remember, these timelines are just estimates. Unforeseen circumstances like customs delays or weather conditions can add to these times. 
Understanding Customs Regulations When Shipping to Canada
When shipping to Canada from the US, understanding customs regulations is key to a hassle-free shopping experience. The Canada Border Services Agency (CBSA) oversees all goods entering the country, ensuring they comply with Canadian laws and regulations. 
The following are some crucial points to know: 
Restricted and Prohibited Goods: Some items are restricted or completely prohibited from being imported into Canada. These include certain food products, plants, animals, and goods that could be harmful to the environment or public health. Check the CBSA's website for a detailed list.
Customs Duties and Taxes: Depending on the nature and value of the goods, duties and taxes may be applied. If the goods are valued at less than CAD$20, they may be exempt from duties and taxes.
Declaration: All goods must be declared upon arrival in Canada. False declarations can result in seizure of the goods, fines, or even criminal charges.
Dealing with duties and taxes: What you need to know
When it comes to shipping your shopping spree goodies from the US to Canada, a crucial point to understand is the duties and taxes involved. These are not just pesky additional costs, but mandatory financial obligations that ensure your package reaches you without a hitch. 
Duties: These are the taxes imposed on imported goods. The amount is based on the product's value and the type of goods. For a rough estimate, you can use a duty calculator, but the most accurate figure will come from the Canada Border Services Agency (CBSA). 
Taxes: Taxes are generally applied based on the province to which the goods are shipped. The Goods and Services Tax (GST) is a federal tax of 5% applied across Canada, but provinces may also charge Provincial Sales Tax (PST) or Harmonized Sales Tax (HST). 
GST: A 5% federal tax applied on most goods and services in Canada.
PST: A tax that varies from province to province. Some provinces do not charge PST at all, while others can charge up to 9.975%.
HST: A combined tax that includes both GST and PST, ranging from 13% to 15% depending on the province.
Avoiding prohibited items
Before you start filling up your virtual shopping cart, let's chat about what not to buy. Canada has a list of items you just can't bring over the border, no matter how much you might want them. It's all about keeping everyone safe and avoiding unnecessary hiccups in the shipping process. 
Here are some commonly prohibited items: 
Perishable foods and plants - These can carry pests or diseases that could harm Canada's ecosystem.
Certain animal products - This includes items made from endangered species.
Weapons - Most weapons are a no-go, especially firearms.
Some pharmaceuticals - Rules can be tricky here, so double-check before purchasing.
Remember, this isn't an exhaustive list. For a full run-down, check out the Canada Border Services Agency (CBSA) website, or our Canada page. A quick review now can save a lot of hassle later on!
Comparing Shipping Rates
Who doesn't love a good deal, right? So if you're looking to find the cheapest shipping to Canada from the US, you've come to the right place. We all know how shipping costs can sometimes add a significant amount to your shopping cart total, but we've got you covered. 
First things first, it's important to understand that shipping rates can vary drastically depending on several aspects: 
Weight and dimensions of the package: It's simple. The heavier or larger your package, the more you'll pay.
Shipping method: Express shipping will naturally cost more than standard shipping.
Shipping destination: Shipping to urban areas is typically cheaper than in rural areas.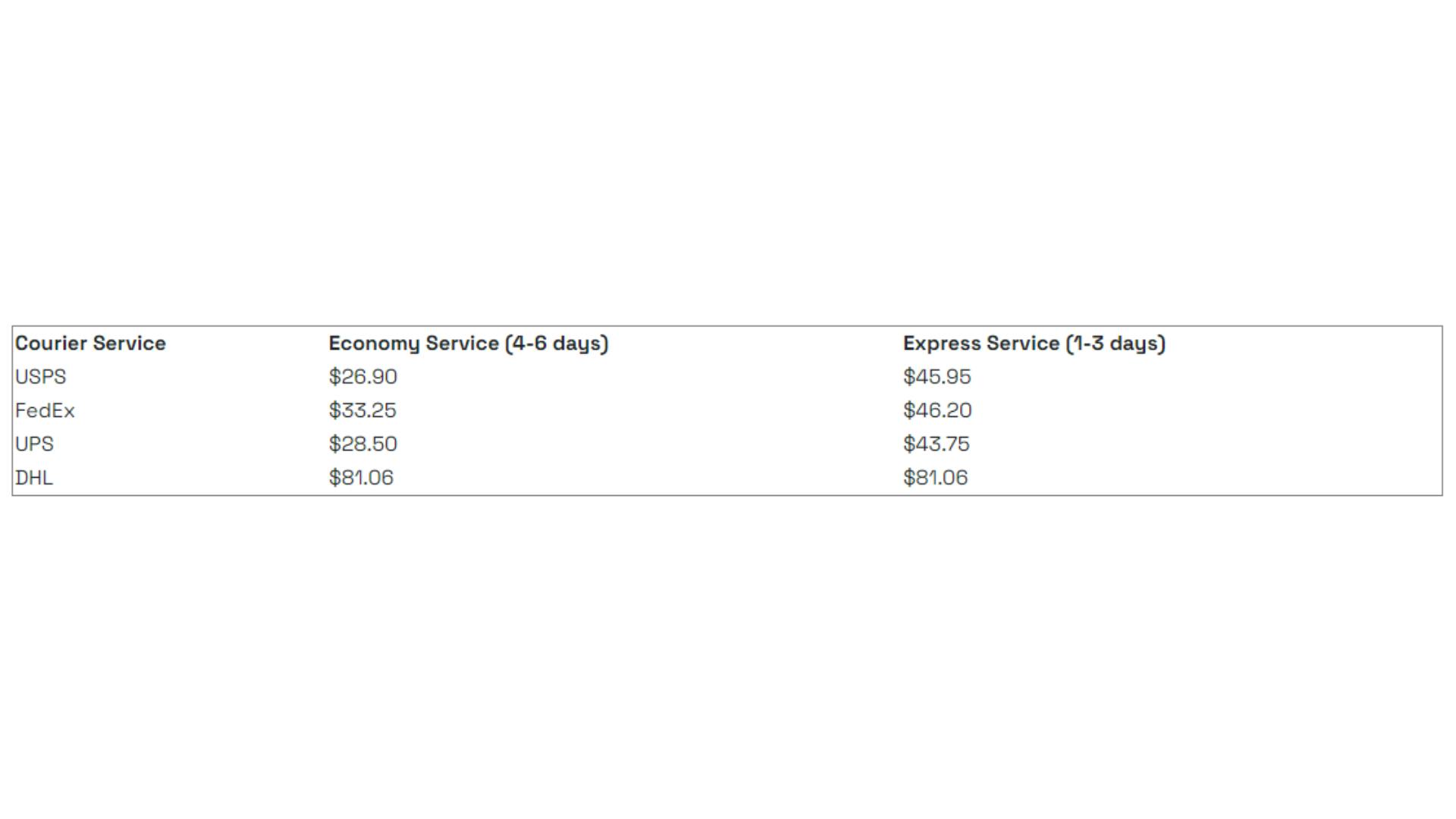 How can Forwardme assist with shipping to Canada?
Are you looking for a hassle-free way to shop from the US and get your items shipped to Canada? We've got just the right solution for you - Forwardme. Forwardme is a game-changer for all Canadian shoppers out there. It provides a free US address to all customers, enabling you to shop from any US online store without any geographical restrictions. And the best part? Forwardme offers the cheapest shipping to Canada compared to other international shipping providers. You'll save not just on your purchases but also on shipping costs! Now, let's delve into the nitty-gritty of what you can and cannot purchase and the customs regulations you need to be aware of. Stick around to become a pro at international shopping!
So there you have it! Shopping from the US and shipping to Canada has never been easier, thanks to Forwardme. Just remember to keep an eye on what items are allowed and what aren't, and always stay updated with the latest customs regulations to avoid any hiccups along the way.