Eager to get your hands on some coveted U.S. goods while stationed in Europe, but feeling a bit overwhelmed by the shipping process? Fear not! We're here to make your shopping adventure as smooth as possible. We know that buying from overseas can seem like a labyrinth, especially if you're a rookie. But hold onto your shopping carts, because this guide is your personal roadmap, navigating you from the U.S. checkout to your very own doorstep in Europe. 
The benefits of shopping in the US
Many Europeans adore shopping in the US for various reasons. The variety of brands, huge sales, and the ability to buy unique items that are hard to come by in Europe are just a few of the many attractions. But, the key question is, how do you get your purchases home in a hassle-free and affordable way? Let's dive into that. 
Wide range of brands: America is home to many brands that are either not available in Europe or are significantly more expensive. Whether it's tech gadgets, fashion, or homeware, the variety is impressive.
Huge sales: Holidays like Black Friday, Cyber Monday, and After-Christmas sales offer discounts that are hard to resist. Even without these events, many stores have regular sales, making shopping in the US an attractive option.
Unique products: Some items are exclusive to the US market. These unique products can be a real treasure for Europeans who want to stand out from the crowd.
But, how do you get your purchases to your doorstep in Europe without burning a hole in your pocket? That's where Forwardme comes into play, your ultimate solution for shipping from the US to Europe.
How to estimate shipping costs
Estimating shipping costs from the US to Europe can seem like a daunting task. However, with a few key pointers, it can be a breeze. Here's a step-by-step guide to help you through. 
Step 1: Determine the weight and dimensions of your package 
Use a scale to determine the weight of your package. Most shipping services charge by weight, so this is an essential step.
Next, measure the dimensions of the package. This information may also impact the cost.
Step 2: Decide on the type of shipping service 
Economy shipping: This is the cheapest option, though it may take longer.
Standard shipping: This option offers a balance between cost and delivery time.
Express shipping: This is the fastest option, but it's also the most expensive.
Step 3: Choose your shipping carrier 
There are numerous shipping services available, but Forwardme is a reliable choice for shipping from the US to Europe. They offer a variety of shipping options at competitive prices. 
One crucial aspect to understand when shipping items internationally is dimensional weight, often referred to as dim weight. DIM weight is calculated by multiplying the length, width, and height of a package, then dividing by a specific divisor. This technique ensures that the shipping charges will cover both the weight of the package and the space it takes up in the cargo vehicle. Essentially, if your package is large but light, you may end up paying more due to its size rather than its actual weight.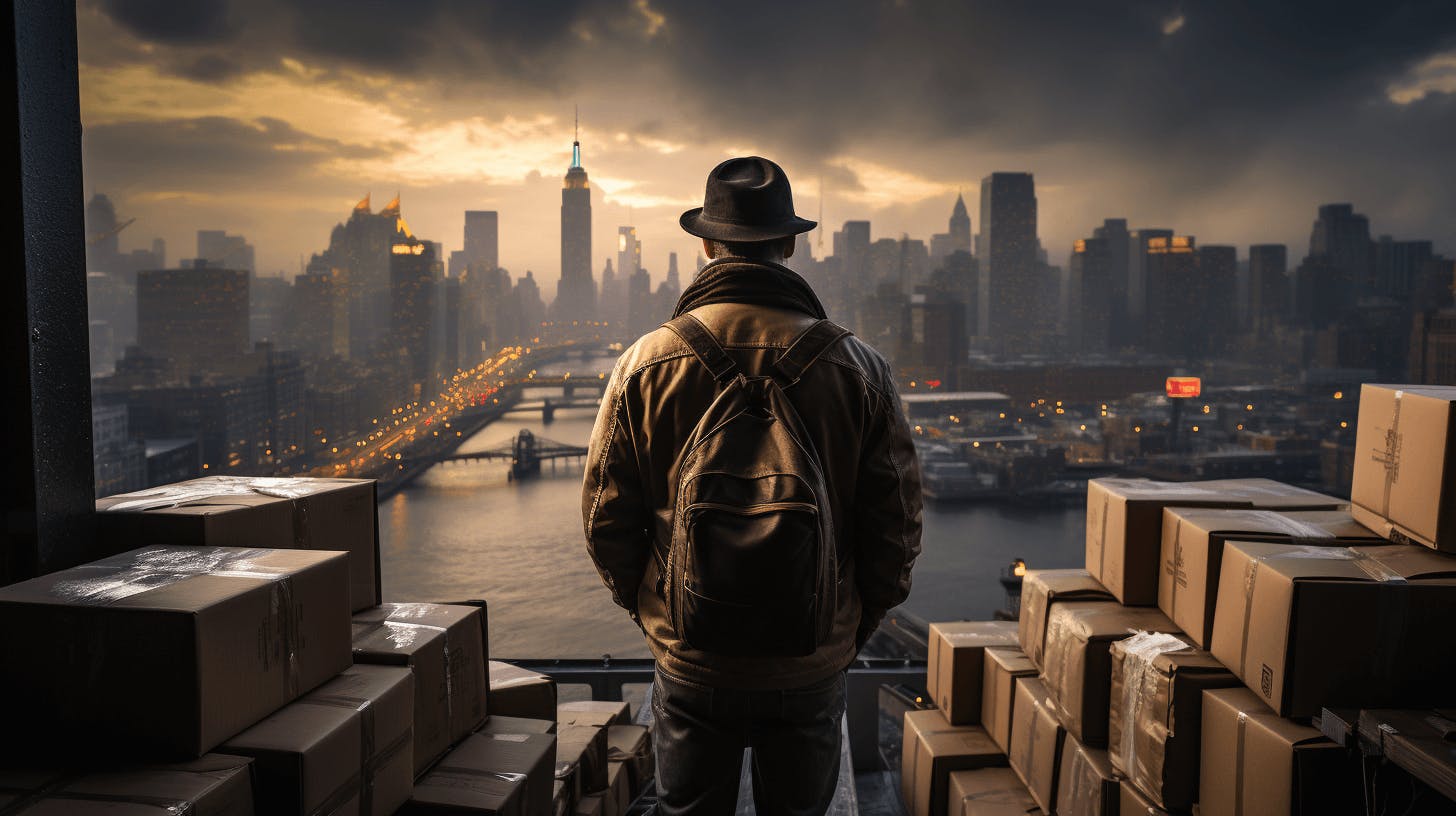 Shipping options and delivery times to Europe
When shopping in the US from Europe, you've got a plethora of shipping options to choose from, with top companies including FedEx, DHL, UPS, and USPS. Each has its own unique benefits and considerations, especially when it comes to delivery times and costs. Let's dive in. 
FedEx; 
FedEx offers the International Priority service, where parcels can reach Europe within 1-3 business days. For less urgent deliveries, there's the International Economy service, with a delivery time of 4-6 business days. 
DHL;
DHL Express Worldwide guarantees your package will get to its European destination within 1-3 days. Alternatively, DHL eCommerce provides a more affordable, but slower service, typically delivering within 8-16 business days. 
UPS ;
UPS Worldwide Express Plus promises delivery by 8:30 am to Canada and 9:00 am to all other destinations within 1-3 days. The UPS Worldwide Express service offers slightly later delivery times for a reduced cost. 
USPS;
USPS offers Priority Mail International with a delivery standard of 6-10 business days. They also offer First-Class Package International Service, with a delivery time based on the destination. 
While these times are generally accurate, do remember that delays can occur due to unforeseen circumstances. Always plan your shopping and shipping accordingly.
What is the cheapest way to ship from the US to Europe?
Scoring the best deals while shopping in the US from Europe is always satisfying, but equally important is finding the most cost-effective method to get all your goodies shipped across the pond. Let's see what our courier friends have to offer. 
Remember, the most cost-effective way doesn't always mean the slowest. It's all about finding the right balance between speed, reliability, and cost.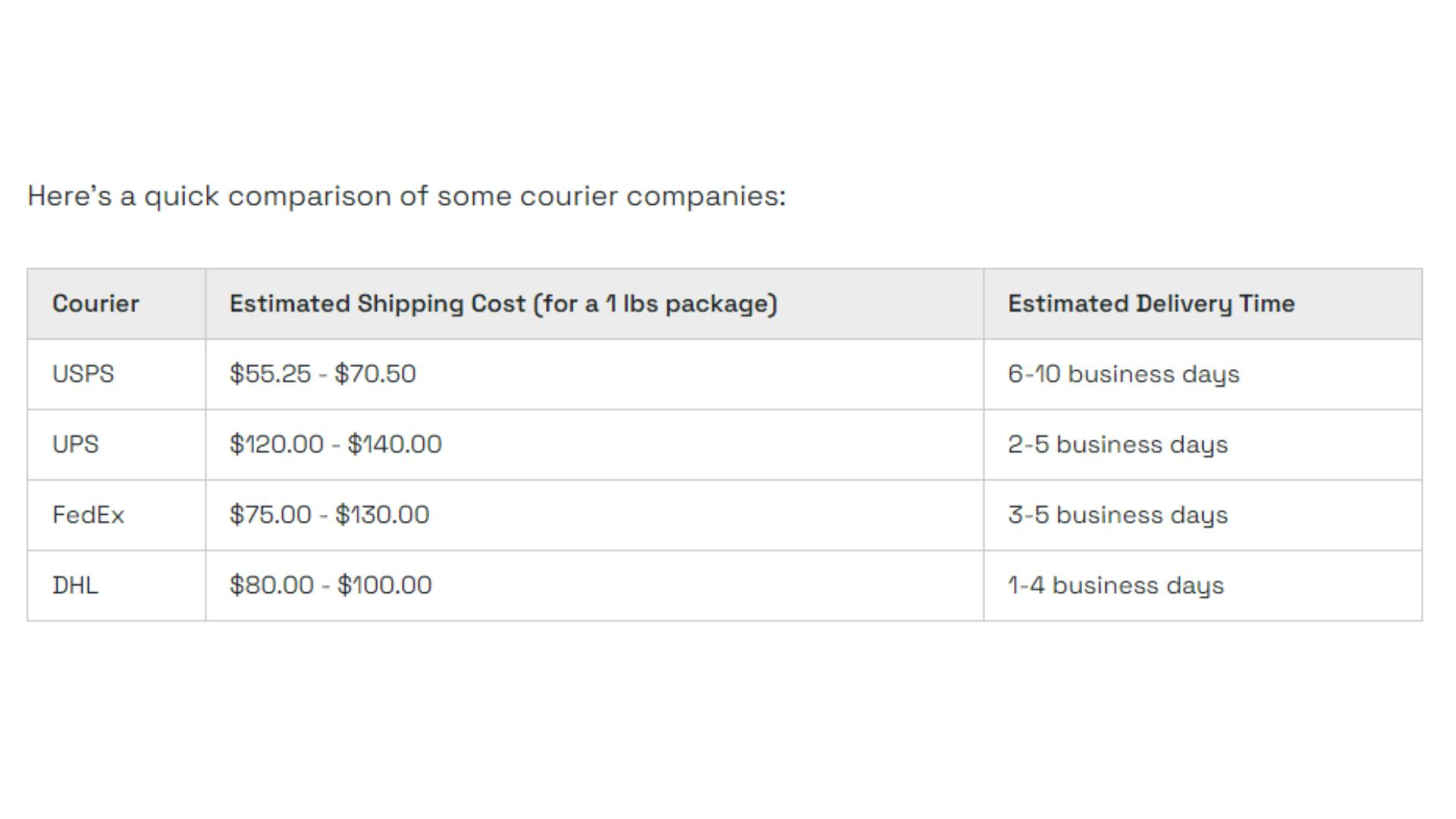 But wait! There's a more cost-effective way - Forwardme. Not only does this service offer cheaper rates, but it also allows you to consolidate multiple purchases into a single shipment, saving even more. With Forwardme, you can have your shopping sent to a US address, held until you've completed all your purchases, then shipped as one package. So, instead of paying shipping fees for every individual item, you only pay for one package. And did we mention that they offer insurance and tracking? It's the smart way to shop and ship from the US to Europe.
Are there any prohibited items when shipping from the US to Europe?
Indeed, there are a few items that are prohibited from shipping from the US to Europe, due to various international laws and regulations. It's crucial to be aware of these to avoid any potential issues or delays with your shipment. 
Firearms and ammunition: These are strictly controlled and typically require special licenses to ship internationally.
Illegal drugs: This includes any substances that are illegal under US law or the law of the destination country.
Live animals or plants: These often fall under strict agricultural regulations in many countries.
Perishable goods: These can spoil during transit and are generally not allowed.
Explosives: Needless to say, these are highly dangerous and prohibited.
Hazardous materials: This includes things like aerosols, chemicals, and any other substances that could be dangerous during shipment.
Please note that this is not an exhaustive list, and regulations can vary depending on the specific destination country. Always check with the relevant authorities or with Forwardme to ensure that your items are not prohibited or restricted.
Customs, taxes, and fees: what to expect
When shopping from the US and shipping to Europe, one of the first things you'll encounter is customs. This is a governmental agency responsible for regulating shipments entering a country or region. They impose taxes, duties, and fees that you should be prepared for. 
Duty rates: 
In general, the duty rate in European countries varies a lot based on the item's nature and the specific country. However, a rough estimate could be anywhere from 0% to 17% of the item's value.
Value Added Tax (VAT): 
VAT is a tax that's applied in most European countries. The rate differs from one country to another but typically falls between 15% and 25%. This tax is based on the total cost of the item, including shipping and insurance.
Customs fees: 
These are the fees charged by the Customs Agency for processing the item. They generally range from €10 to €25, depending on the country.
It's essential to calculate these additional costs before making a purchase, to avoid any unexpected expenses.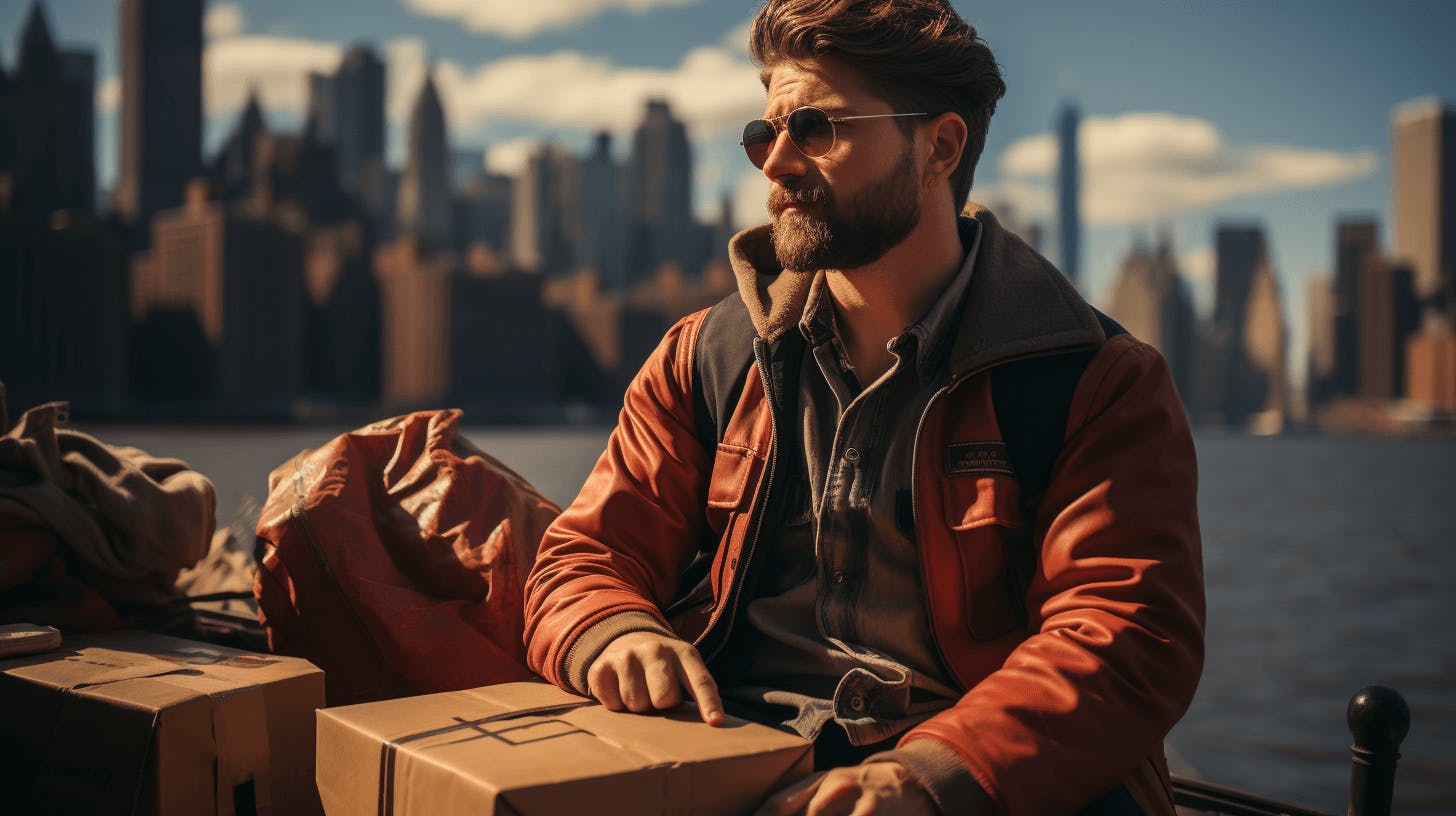 Maximizing your savings with Forwardme
Embrace a whole new world of convenient, cost-effective shopping from the U.S. to Europe with the help of Forwardme. But to truly make the most of your cross-continental shopping spree, there are some savvy tips and tricks you need to know. Let's dive in! 
Be a Smart Planner: Having a clear idea of what you want and where to buy it from can save you a bundle on shipping. Not all U.S. stores provide international shipping and those that do often have exorbitant fees. Here's where Forwardme steps in, offering a U.S. shipping address that simplifies shopping for non-residents.
Bundle Up your Packages: Why ship items individually when you can consolidate them? Forwardme offers a consolidation service, packing all your goodies into one box to save on international shipping costs.
Pick the Perfect Shipping Option: With a variety of shipping options on offer, Forwardme lets you choose the one that best suits your needs and budget. Whether you're looking for tracking and insurance, or speed and cost-effectiveness, they've got you covered.
So there you have it! Shopping in the U.S. and shipping to Europe doesn't have to break the bank when you've got the right guide. With Forwardme, you're not just getting a shipping service, you're gaining a reliable partner in your transcontinental shopping adventure.
Consolidating multiple packages for even greater savings
At Forwardme, one of our core services designed to significantly reduce shipping costs for our customers is consolidation and repacking. We understand that shipping multiple packages individually can be a drain on your wallet. So, we've developed a smart solution to this problem. Our service allows you to buy from multiple US stores, have your purchases shipped to our US warehouse, and we then consolidate all these packages into one.
This drastically reduces your shipping costs. What's more? We also offer a repacking service. If you've bought items that come in bulky packaging, we'll repack them into smaller parcels to save even more on shipping costs. At Forwardme, we're not just about making a sale. Our services are tailored to ensure you get the most bang for your buck, and we consider our consolidation/repacking service a prime example of this commitment.
How to Shop Tax-Free in the US
As a savvy shopper, you might be wondering how to make your shopping spree in the US even more economical. We have good news for you: Forwardme operates a tax-free warehouse in Newark. This is a game changer, as it allows you to buy items in the US without paying sales tax, which can add a significant cost to your purchases.
In conclusion, the world of shopping in the US and shipping to Europe is at your fingertips. With the right knowledge and a service like Forwardme, you can enjoy a broader range of products at lower costs. So, go ahead, start shopping, join to Forwardme, and leave the shipping to us. In no time, those coveted US products will be on your doorstep. Happy shopping, Europe!