Investing in a backpack that is durable and spacious is essential for the person on the go. You want to make sure your pack is comfortable to wear but will also keep all your belongings safe while you're on the go. Fortunately, Boundary has a backpack that is perfect for everyone.
Boundary's goal is to make backpacks that will last and make your life more comfortable when using one. On top of that, the company is focused on creating sustainable products that will benefit the environment. The result is the perfect product for anyone who loves trail hiking or wants a great bag.
The cool thing about Boundary and its products is their guaranteed lifetime warranty. With this warranty, you can get your products replaced if there are problems with the way they were made or if they break and stop working.
Boundary Supply has an array of different products you can invest in. One of their most popular designs is the Prima System Modular Travel Backpack. The travel set comes with a Prima backpack, a Verge camera case, and a Fieldspace laptop sleeve to keep everything safe and organized.
The Prima System X-Pac Modular Travel Backpack comes with the same supplies as the other travel backpack. Still, the X-Pac is made of an extremely durable material that was originally made for racing boats. This means that it is waterproof. The material helps keep the bag lighter but more robust.
Besides backpacks, Boundary offers fanny packs, duffle bags, crossbody bags, camera and laptop holders, and an array of travel products that are perfect for anyone on the go. 
The Great Design of Prima Backpack
The design of the Prima bag is pretty unique. The pack is made with Kodra Nylon and Hypalon, which help make it waterproof. It comes with a DWR coating that also helps protect the pack from all-weather elements. The zippers come with weather-resistance features as well, and around the bag, you will see magnetic flocks to keep everything safe. The bag has a few handles you can use to grab and carry it quickly. Also, the bottom of the pack features two lash straps that you can use to attach anything extra to your pack.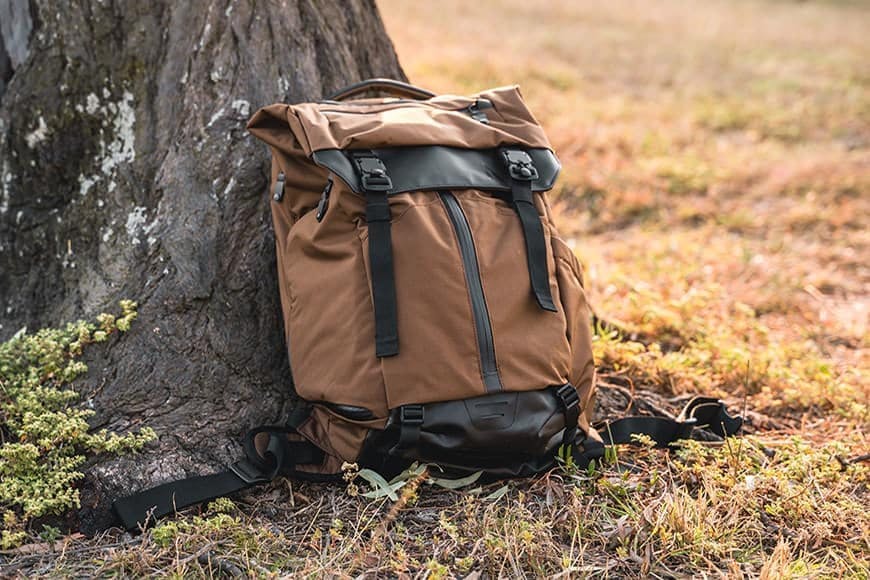 The side of the bag offers a water bottle holder that is elastic, and there is another strap about the water bottle holder to secure your bottle or whatever else you might be carrying. The back of the pack and shoulder straps feature LTF foam that is ultra-thick and comfortable. It has an excellent honeycomb design that allows air to flow through it but keeps the pack dry from sweat. The shoulder straps have a few loops so you can attach stuff to them, and it has an adjustable sternum strap as well.
The capacity of the Boundary Prime Pack is 30 liters, or 38 liters if you attach the Verge (camera bag) to the outside of your bag. The dimensions are 12W X 21H x 7D", which means you can fit a lot of stuff into your Prima Pack.
The inside of the bag is made with a super-soft fabric called Nywool. You will find a separate laptop compartment that will fit a 17" laptop easily on the inside of the pack. The front sleeve of the pack is called the "Field Space" and is there to help keep you organized while on the go. This section can hold a tablet, a smaller laptop, documents, or whatever else you might be carrying. The cool thing is that this section can be removed if you don't need it since it connects to the pack via magnets.
The main compartment of the bag might be challenging to get into. First, you unclip the two flintlock buckles and then unroll the bag. Undo the snaps that cover the top zipper, and then you can unzip that bag and open it up. Due to the unrolling feature, it allows you to have extra space if you need it in the bag since you don't need to re-roll it if you are packing a lot.
Inside the main compartment, you will find an elastic document sleeve against the back, and that is about it. There is a good amount of space for you to easily pack the bag unless you add the camera case, which will take up a lot of room in your primary area.
How to Buy & Ship Internationally
If you're interested in getting a Boundary bag, they ship worldwide. If by chance, they don't ship to your country, you can always head over to Forwardme. Forwardme ships to over 220 countries with the most affordable shipping options. You can ship to countries like Australia, Singapore, United Arab Emirates, United Kingdom, South Africa, and many more. With Forwardme, all your shipping needs are taken care of without the hassle of trying to get your online purchase delivered directly to your door.
On top of that, Forwardme offers a personal shopper that can handle all the essential parts of your purchase, including payment, so you don't have to. Now you don't need to worry if Boundary accepts your form of payment because your personal shopper will handle all that for you.
You can easily buy your own Prima bag on Boundary's website as well. Their packs start around $269 and go up from there, but the packs usually come with a few extras, so the price isn't too shabby.
Final thoughts
If you love hiking, camping, or traveling a lot and need a durable bag, Boundary is a great option for you. Their packs are a little more on the pricey side, but they keep their materials sustainable and eco-friendly, driving up the cost. On top of that, their bags have room and offer a lot for people who need to bring tech gear with them but keep it safe from everything. If you love being outdoors, this pack will stand up against all the elements. 
Head over to Forwardme for all the help you need in grabbing your own Boundary bag and enjoy having a trustable and affordable shipping partner in the USA.