Yoga and Pilates clothes can be used for more than just working out. Of course, it is excellent to absorb your sweat and keep everything in place while you're moving, but yoga pants and comfortable tops are great to wear if you're working from home or adding to your everyday style.
There are various yoga clothing companies out there as well, and trying to decide which brand suits your style and budget the best can be a challenge. We broke down the four most popular fitness brands so you can take an in-depth look at each one to determine which one works the best for you.
Lululemon's equipment for any sports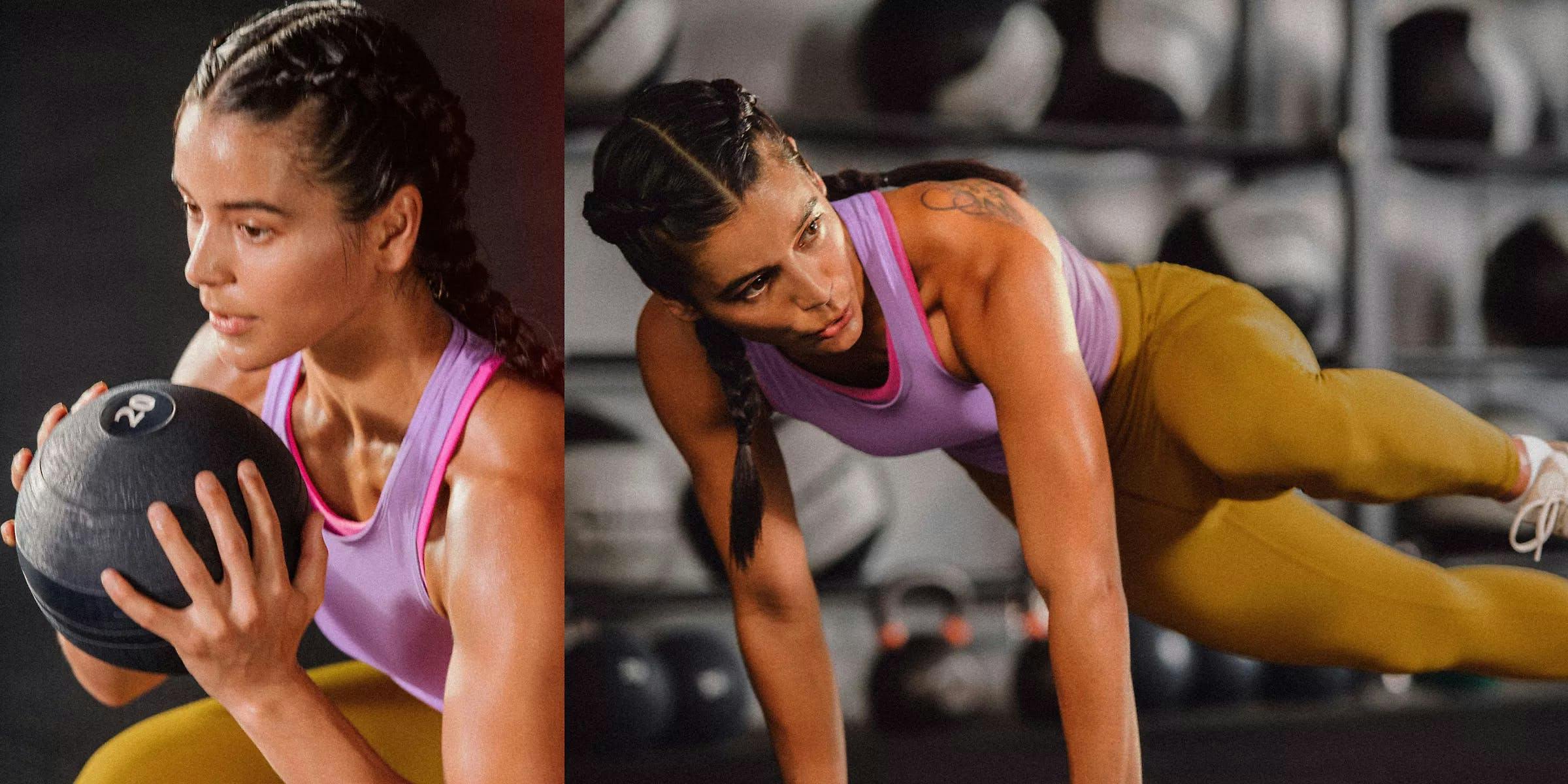 Lululemon has been around since 1998 and is known as a high-end workout clothing store that offers stylish options for men, women, and girls. Their clothing is made from a signature fabric called Luon, which is stretchy nylon. Lycra gives it a cotton feel and keeps you dry.
The company offers a variety of items too. Their yoga pants are known to be one of the best in the industry, but they also provide yoga mats, workout backs, backpacks, hats, socks, and tights with feet for ice skaters. The downside to Lululemon is its price tag. One pair of pants will probably cost you over $100, and that isn't even getting a complete outfit. 
Lululemon's clothes run true to size. Their sizing is done in numbers, not small, medium, or large. Depending on your body shape, the fit will work or not work for you. The pants fit well, but sometimes after time, they can become stretched out a little. For bras, make sure you try them on and test them out. Some have fantastic support, while others might not give you the coverage or support you're looking for, especially in more high-impact classes.
If you're worried about sweat, Lululemon holds up. Even in their lightest-colored pants, sweat typically doesn't show through. Another fantastic note is that the fabric is excellent at absorbing your sweat and keeping you feeling dry, no matter how intense your training was.
Lululemon does have a "sale" section that they call "we made too much." There, you can score some fantastic deals on their clothing and accessories. They also hold sales occasionally; look for them around the holidays.
If you're looking to pinch pennies, many people will sell their gently used Lululemons on sites like Poshmark. There you can get some amazing deals and pricing for pieces of clothing you might have your eyes on.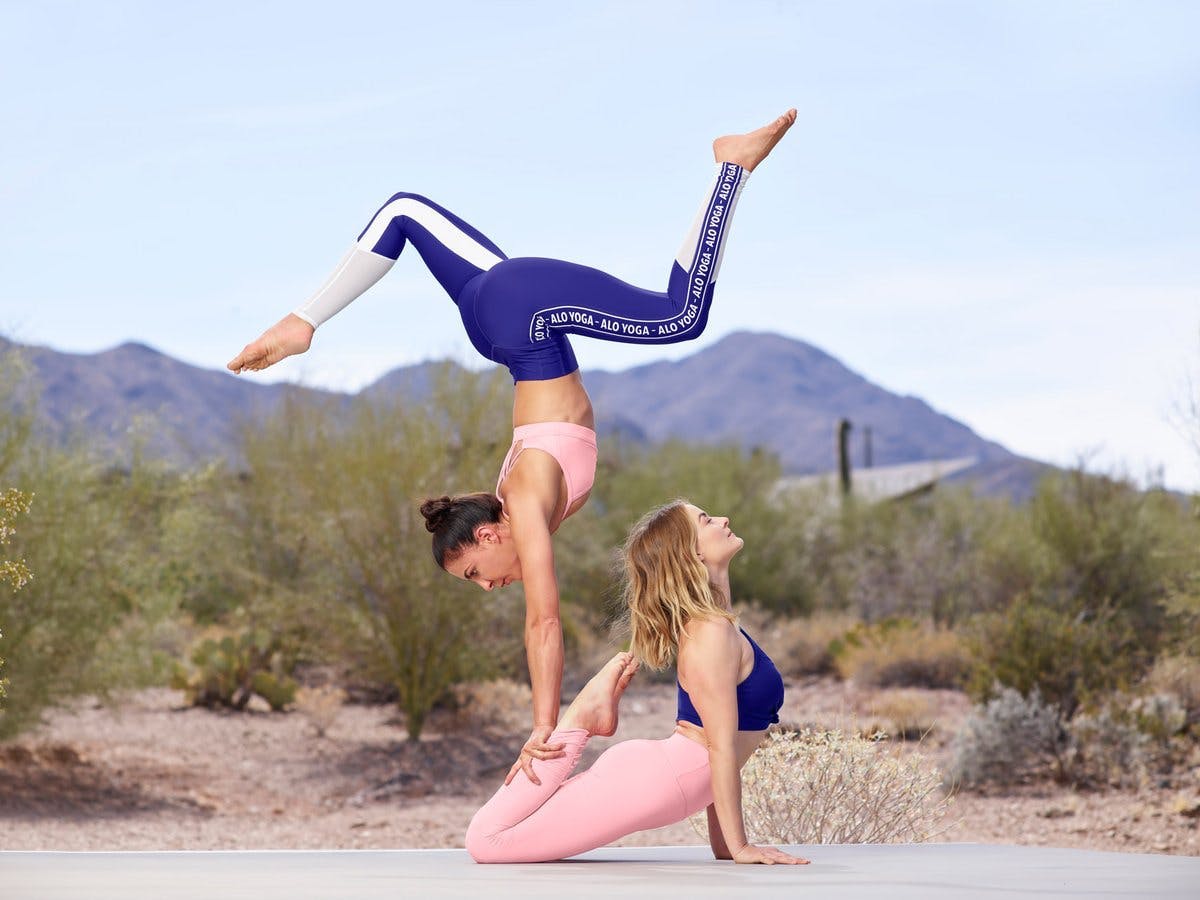 Alo Yoga is another athleisure brand on the high-end side and is known to be a favorite among celebrities. Their signature fabric keeps everything where it needs to be but still gives you that buttery soft feeling. Their yoga pants also come in a variety of colors and styles, making it easy to wear them outside the house.
A cult classic from Alo is the 78 High-Waist Airlift Leggings. These leggings are smooth to the touch with opaque fabric that is perfect for those intense training days. The material is lightweight, and it offers sweat-wicking properties. Their Moto leggings will feel like a second skin to you and are perfect for everyday wear. They come in 12 colors and have a high-waisted band for people who don't want their stomachs showing. 
Alo is also great at the match game. They have several shirts or sports bras that perfectly match their bottoms, offering you your best look when hitting a yoga or spin class.
If you sign up on their website, you get 10% off your first order. With any order, you also get 30 days of their Alo Moves for free, so you can work out with your workout gear. In addition, they also have a sale section online that gives you up to 40% off their sale items.
Currently, Alo only ships within the United States and only accepts US currency. No worries, though; head over to Forwardme, where you can get a personal shopper that can handle shipping and payment for you with no issues.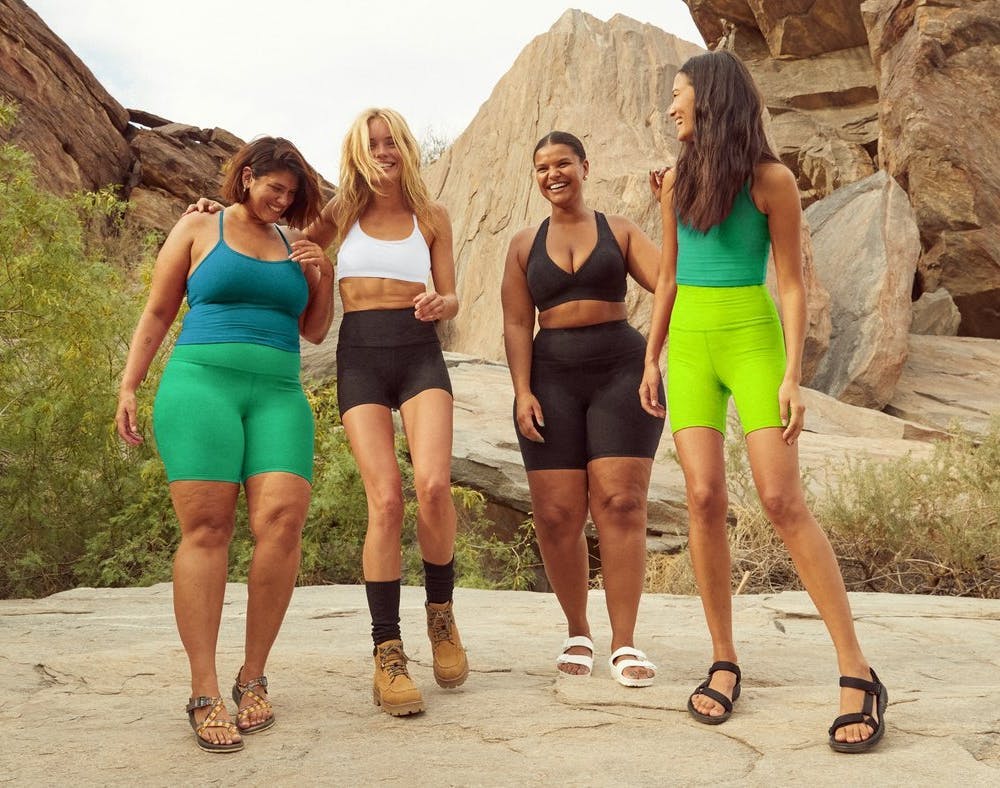 Beyond Yoga is another excellent workout brand that offers various athletic clothes, ranging in sizes from XXS to XXL, with 15 color options. Their fabric is soft, with moisture-wicking technology that stays cool but doesn't show sweat. Their size inclusivity makes them a better brand since they cater to anyone.
One fan favorite from Beyond Yoga is the Spacedye Caught in the Midi High-Waisted Leggings. These leggings usually have a matching top, and people can't get enough of them. The fabric gives a comfortable fit and feel, and you can move around without feeling constricted. These leggings are super stretchy and won't slip or move around when you do.
If you head over to Beyond Yoga's website, you can get 15% off your first order when you sign up for their email and text alerts. They also have a sale section that gives you a deal on their old-season options that are perfect to wear whenever. Most of their sale items are 40–50% off, which is a great deal when their pants usually cost around $100.
Beyond Yoga will ship anywhere in the United States. They also offer international shipping but use a third-party source to work it out. To make your life easier, let Forwardme do all your shipping for you.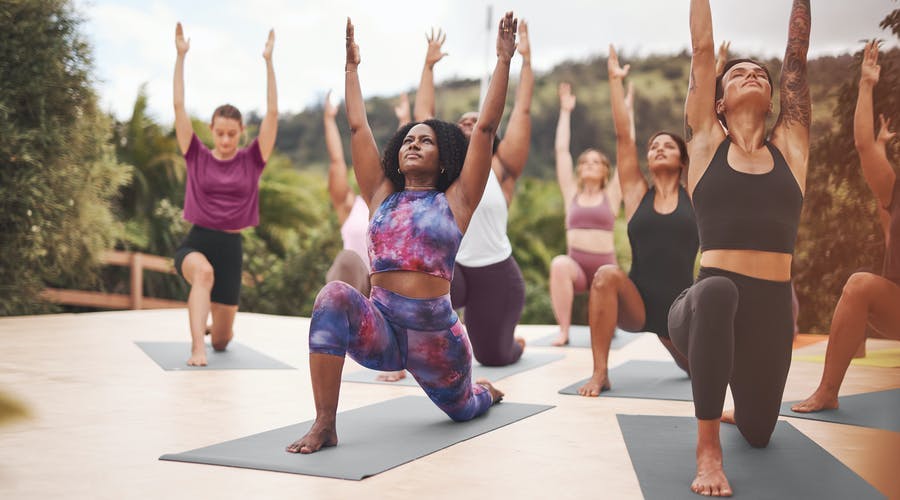 Athleta is part of The Gap and is one of the fastest-growing athletic brands in North America. The company is big on sustainability and is even a B-corporation store. Athleta only sells women's clothing, though, so if you were hoping to get something for the entire family, this is not your store. Besides workout clothes, Athleta also offers a wide variety of casual wear.
The Salutation Stash Pocket II 7/8 legging is excellent for low-impact classes and lounging around. The material feels like butter and is great for feeling cozy all the time. If you need a little more, check out their Ultimate Stash Pocket ⅞ Tight. These pants have more compression and hold you in without being restrictive. They're great for a higher-impact workout and won't slop.
The great thing about Athleta is its size and inclusivity. Similar to Beyond, they have a wide range of sizes that cater to everyone, and their pants are a little cheaper than those from Lulu or Alo. The downside is they don't have as many leggings options with cute styles that we are accustomed to seeing with other brands.
Athleta has a sale section, both in-store and online, where you can score some fantastic deals on clothing that you can't wait to show off.
Currently, Athleta only ships within the United States. For all your Athleta gear, head over to Forwardme to get all your needs taken care of.
These athletic brands are great for their own individual reasons, but only half can ship internationally. If you're dying to get your hands on some comfy leggings, Forwardme is great for getting everything you need to be shipped quickly and inexpensively your way.